Full Time
Applications have closed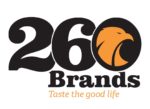 260 Brands Zambia limited
Position: Machine Operator/Technician
Business: Seba Foods Zambia Limited
Work-level: Mid-level
Location: Lusaka, Zambia
Reports to: Head – Maintenance
Company Overview
260 Brands Africa, Seba Foods (Z) Ltd is an African consumer goods manufacturer based in Zambia.
We provide 'value-for-money' products that consumers can trust and feel good about. The company`s products have become household names in Zambia, priding themselves in very high-quality products through well-known brands such as Golden Goodness, Emilios, Instant Thobwa, HEPS, Nutrameal, Nutramilk and Nutrasip.
We manufacture, market and distribute reasonably priced consumer products inspired by local tastes, made from the best African raw ingredients that contribute to our consumer's well-being.
Our local brands that are trusted and loved by our consumers are the most valuable asset we have. Our products must always be high-quality and a source wellness and pride.
We empower local farmers and small businesses by locally sourcing inputs and materials whenever we can.
We believe in creating mutually beneficial relationships. If we prosper, so should our consumers, employees, customers, suppliers and the community.
Job purpose
Reporting to the Head – Maintenance will play a lead role to be responsible for all maintenance and reliability activities at all factory sites, to ensure smooth, safe, optimum running of operations equipment.
Key responsibilities
Develop and implement a maintenance schedule to execute weekly, monthly, and quarterly planned and preventive maintenance procedures in all plants,
Address emergency breakdowns, to minimize downtime in the plant, lead Root Cause Analysis investigations, formulate and implement defect elimination plans.
Responsible for developing an Asset Care Strategy for the organisation (assessment of status and requirements, planned and scheduled maintenance and related information management (equipment specifications and work history, spares and tools requirement, cost and inventory) using a computerised maintenance management system.
Develop and maintain a production/ maintenance partnership to ensure high equipment availability
Develop and implement inspection schedules for all production value streams, to ensure continuity of production and maintenance as necessary
Responsible to supervise and train workers for all disciplines of maintenance (Instrumentation, mechanical, electrical, welding, fabrication, utility maintenance etc.)
Proposing, developing, implementing and commissioning new projects based on suppliers or manufacturer's instructions.
Determine requirements for and implementing plant changes including automation and modifications to maximise plant efficiency and safety and minimise losses.
Oversee all repairs being carried out through team leaders, as well as works for the repair of buildings, landscapes, and structures.
Co-ownership over all spare parts, alongside store managers and shift in charge, and responsible for MRO spares approvals.
Ensure maintenance is carried out safely with hygiene clearance approvals and maintain food safety and PPE standards at all times during the works carried out.
Responsible for plant and maintenance personnel safety and health, and environmental management relating to maintenance activities, in liaison with the EHS officer.
Responsible for developing and controlling maintenance department budget.
Key Qualifications & Requirements
1. Degree holder in engineering, preferably instrumentation or related field, but with good working knowledge of mechanical engineering.
2. A minimum of 8 years of experience in all fields of maintenance of equipment in a food manufacturing operation. This will include boilers, compressors, silo shammer mills, dryers, extruders, tanks, conveyors, packing machinery, beverage plant equipment such as pumps, pouch and carton fillers and cappers, sterilizers, UHT and CIP systems, and other food processing machinery.
3. Previous managerial experience in a similar industry is a requirement
4. Will be required to work hands-on with machines.
5. Working knowledge of the technical features of plumbing, carpentry, building, fabrication and welding.
6. Strong knowledge of facilities machines and equipment.
7. Proven Experience as Technician- Electrical, Mechanical, Production, Maintenance & Repair.
8. Industry experience in food processing or manufacturing is a requirement
9. A combination of experience and qualification may be considered
10. Good team-leader and working skills, able to manage a multidisciplinary engineering team.
11. English – Good verbal and written communication skills
12. Able to cope under pressure and with a flexible approach to working hours specifically in peak periods.
For all qualified and interested candidates, please email your updated CV and relevant qualifications to [email protected] on or before 16th September 2023.