Contract
Applications have closed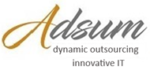 Website Adsum Limited
Dynamic outsourcing and Innovative IT
The Business Development Partner is responsible for driving business growth, and duties vary on a day-to-day basis. Typical responsibilities will include but may not be limited to:
Responsibilities
Creating development plans and forecasting sales targets and growth projections
Identifying market opportunities through meetings, networking and other channels
Meeting existing and potential clients and building positive relationships
Responding to RFP's, RFQ's, IFB's, supplier registration adverts etc
Liaising with colleagues to develop sales and marketing strategies
Attending events such as exhibitions and conferences
Preparing sales presentations and participating in sales meetings
Producing reports for management
Training business developers and sales colleagues
Working in a client's business or in an office.
Required skills:
A drive to seek new business
Excellent telephone skills
Strong verbal and written communication
Good IT skills
Initiative and good decision-making skills
Strong organisational skills
Strategic and analytical thinking skills
Ability to write reports and good written communication standards.
Qualifications
Diploma / equivalent minimum
Valid driver's license