Full Time
Applications have closed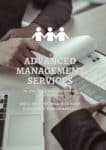 Advanced Management services Limited Advanced Management services Limited
Job Title: Trades Man
Department: Maintenance
Reports To: Maintenance Manager
Position Summary:
The Trades Man will perform semi-skilled and skilled tasks including maintenance work, repairs, and construction duties; They shall further perform sub-journey level work in multiple trades including regulatory testing and preventative maintenance work and handles a variety of projects as assigned.
Duties and Responsibilities:
Perform semi-skilled level tasks related to maintenance, repair, and construction
work in basic trades such as carpentry, painting, electrical, plumbing and heating.
Ensure quality workmanship and timely completion of Projects.
Construct, install, and maintain roofs, furniture, fences, cabinets, shelving and other office equipment.
Install, repair, and maintain gas and water lines, heating and cooling equipment.
install, adjust, and repair doors, window glass, electrical equipment, floors, ceiling tiles, door locks, access enclosures, and a variety of other apparatus.
Paint, prepare surfaces, mix paints, and finish a variety of equipment, furniture, and structures.
Weld parts together using gas and arc welding processes.
Perform regulatory water testing and maintenance of swimming pools
Check pressure gauges and mechanical equipment to assure proper functioning. maintain filters, backwash and pump equipment.
Move, pick-up, and/or deliver furniture, equipment and other office and classroom items/materials as required.
Identify and report items requiring maintenance, replacement, and/or repair in a timely manner.
Follow proper protocols for purchasing materials and/or requesting advanced specialty services as needed.
Maintain and/or prepare various records, reports, and correspondence as required.
Skills and Specifications:
Strong organizational and multitasking skills, with the ability to perform well in a fast-paced environment.
Ability to work effectively within a team and under minimal supervision
Integrity, honesty and accountability in all dealings.
Qualifications:
Full Grade 12 certificate
Certification in Multiple Trades (should include Electrical, plumbing and carpentry)
3 years relevant experience
Numerical/ IT skills
Forward a Cover letter, Curriculum Vitae and relevant academic certificates strictly as "one document" to [email protected] Closing date: 20th January 2023. Only candidates that meet the criteria are advised to apply.