Part Time
Negotiable / Month
Applications have closed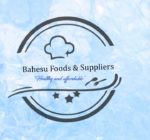 Website bahesufoods Bahesu Foods and Suppliers
Bahesu Foods and Supplier "Where quality meets excellence"
Bahesu Foods and Suppliers a renowned brand dealing in quality and affordable food products situated in Mongu Western Province  is looking for energetic and creative individuals  to fill in the position of provincial sales representatives.
Some of  the products you will be promoting are rice, beans, rice bran and so many food related products.
As a Provincial Sales Representative for Bahesu Foods and Suppliers, your main responsibilities would include promoting and selling the company's products within your province. This involves identifying potential clients, building relationships, and ensuring customer satisfaction. You would also need to stay updated on industry trends, gather market intelligence, and report on sales activities. Additionally, you might collaborate with the marketing team to develop strategies, attend industry events, and achieve sales targets set for your designated area.
Job description
As a Provincial Sales Representative for Bahesu Foods and Suppliers, your job description would include:
Sales and Business Development: Promote and sell Bahesu Foods and Suppliers' products within the assigned province. Identify and target potential customers, and develop strategies to expand the company's market presence.
Customer Relationship Management: Build strong relationships with existing and potential clients. Understand their needs, provide product information, address inquiries, and offer solutions to enhance customer satisfaction.
Product Knowledge: Develop a deep understanding of the company's products, their features, benefits, and competitive advantages. Effectively communicate this information to customers to highlight the value proposition.
Market Research: Stay updated on industry trends, competitors, and market dynamics within the province. Gather market intelligence and provide feedback to the company to adapt strategies accordingly.
Sales Targets: Set and achieve sales targets specific to the province. Develop and execute sales plans to meet or exceed these goals, while maintaining a focus on long-term customer relationships.
Negotiation and Deal Closure: Engage in negotiations with clients to finalize sales agreements. Ensure that the terms are mutually beneficial and align with the company's policies.
Reporting: Maintain accurate records of sales activities, customer interactions, and progress towards targets. Generate regular reports for management to track performance and identify areas for improvement.
Collaboration: Work closely with the marketing team to align sales efforts with marketing campaigns and initiatives. Provide insights from the field to assist in the development of effective strategies.
Networking: Attend industry events, trade shows, and conferences within the province to network with potential clients and industry professionals.
Problem Solving: Address customer concerns or issues promptly and effectively. Collaborate with internal teams to resolve any challenges that may arise.
Geographical Knowledge: Familiarize yourself with the geography and market nuances of the province. Use this knowledge to tailor your sales approach to different regions within the province.
Continuous Learning: Stay updated on product developments, industry trends, and sales techniques to enhance your effectiveness as a sales representative.
Key roles of a Provincial Sales Representative for Bahesu Foods and Suppliers:
Sales Strategist: Develop and execute effective sales strategies to maximize revenue and market share within the assigned province.
Relationship Builder: Cultivate strong relationships with clients, understanding their needs and providing tailored solutions.
Product Expert: Acquire in-depth knowledge of Bahesu Foods and Suppliers' products, enabling you to present their features and benefits convincingly.
Market Analyst: Monitor market trends, competitor activities, and customer preferences to adapt your approach and maintain a competitive edge.
Target Achiever: Set and meet sales targets, consistently delivering results that contribute to the company's growth.
Negotiation Pro: Skillfully negotiate terms and conditions with clients to close deals that are favorable to both parties.
Communication Specialist: Effectively communicate with clients, colleagues, and management, ensuring clear and concise information sharing.
Problem Solver: Address customer concerns and resolve issues promptly, maintaining customer satisfaction and loyalty.
Data Manager: Maintain accurate records of sales activities, customer interactions, and progress toward targets for reporting and analysis.
Collaborator: Work closely with marketing and other teams, aligning efforts and sharing insights to drive coordinated strategies.
Brand Ambassador: Represent Bahesu Foods and Suppliers with professionalism and enthusiasm, reflecting the company's values and mission.
Adaptability: Adjust your approach based on the unique characteristics of different regions within the province to effectively connect with diverse customer bases.
Networking Maven: Attend industry events and build a network of contacts, expanding your reach and potential customer base.
Continuous Learner: Stay updated on industry developments, sales techniques, and product knowledge to maintain your competitive edge.
Results Analyst: Regularly analyze your sales performance against targets and strategize for improvement when necessary.In this role, you'll play a crucial part in driving the success of Bahesu Foods and Suppliers by driving sales, fostering customer relationships, and representing the company in a positive light within your designated province.
Qualification;
The candidates should have a Diploma in business related course. Degree holders will have an added advantage.
Interested candidates must apply by email to ; [email protected] not later than 21 September 2023.