Contract
Applications have closed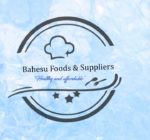 Website bahesufoods Bahesu Foods and Suppliers
Bahesu Foods and Supplier "Where quality meets excellence"
Company Brief:
Bahesu Foods and Suppliers is a reputable food distribution company dedicated to providing high-quality food products to customers across the country and SADC region . With a strong commitment to excellence and customer satisfaction, we have established ourselves as a key player in the food industry. Our diverse product range and exceptional service have contributed to our steady growth and success.
Company Products:
We offer a wide range of food products, including fresh produce, packaged goods, dairy products, meats, and more. Our product selection is carefully curated to meet the needs of our diverse customer base, which includes hotels restaurants, grocery stores, and other food establishments.
Job Advert: Provincial Sales and Marketing Coordinator
Job Description:
We are seeking a motivated and dynamic Provincial Sales and Marketing Coordinators to join our team. This role is crucial in driving sales and promoting our products across the province. The successful candidates will play a key role in developing and executing sales and marketing strategies, fostering customer relationships, and contributing to the growth of our business.
Location:
Provincial Sales and Marketing coordinators will be based in Lusaka, Kabwe, Ndola,Choma and Livingstone and will be reporting directly to the Business Development Manager based at our head office in Mongu.
Responsibilities:
Develop and implement effective sales and marketing strategies to achieve sales targets and increase market share.
Identify potential customers and new business opportunities within the province.
Build and maintain strong relationships with existing and potential clients.
Collaborate with the marketing team to create compelling marketing campaigns and promotional materials.
Monitor market trends and competitor activities to stay informed and adjust strategies as needed.
Provide regular reports on sales performance, market trends, and customer feedback.
Coordinate with the distribution team to ensure timely delivery and customer satisfaction.
Represent the company at industry events, trade shows, and networking functions.
Qualifications:
Bachelor's degree in Business, Marketing, or a related field (or equivalent experience).
Proven experience in sales and marketing, preferably in the food or distribution industry.
Strong interpersonal and communication skills.
Ability to analyze market trends and develop effective strategies.
Self-motivated, proactive, and results-oriented.
Excellent organizational and time management skills.
Proficiency in using sales and marketing software tools.
Willingness to travel within the province as needed.
If you are a driven professional with a passion for sales and marketing, and you're excited about contributing to the growth of a respected food distribution company, we encourage you to apply. Please submit your resume and a cover letter by email outlining your relevant experience and why you believe you're a strong fit for this role.
All applications must be sent by email not later than 21st September 2023.
E-mail:[email protected]