Full Time
Applications have closed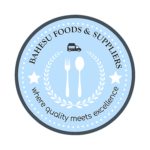 Website bahesufoods Bahesu Foods and Suppliers
Bahesu Foods and Supplier "Where quality meets excellence"
Employment opportunity
Position : Website designer
Company Description:
Bahesu Foods and Suppliers is a dynamic and rapidly growing food distribution company based in the heart of the culinary capital. Our commitment to quality, innovation, and customer satisfaction has propelled us to become a trusted name in the industry. We specialize in sourcing and supplying a wide range of premium ingredients to restaurants, hotels, and catering businesses, ensuring that they have access to the finest ingredients to create exceptional culinary experiences.
Company Background:
Founded in in August 2023, Bahesu Foods and Suppliers has steadily grown to become a leading player in the food distribution sector. Our team of dedicated professionals works tirelessly to connect producers and chefs, enabling them to elevate their culinary creations. With a strong focus on sustainability and ethical sourcing, we are passionate about delivering excellence in every aspect of our business.
Job Opportunity Advert: Website Designer
Position Overview:
Bahesu Foods and Suppliers is seeking a creative and talented Website Designer to join our team. As our Website Designer, you will be responsible for enhancing our online presence, ensuring that our website reflects our commitment to quality and innovation.
Qualifications:
Proven experience in web design and development, with a portfolio showcasing your work.
Proficiency in HTML, CSS, JavaScript, and responsive web design.
Strong knowledge of web design principles, UI/UX best practices, and accessibility standards.
Experience with content management systems (CMS), preferably WordPress.
Graphic design skills and proficiency with design tools like Adobe Creative Suite.
Strong problem-solving abilities and attention to detail.
Excellent communication and collaboration skills.
Ability to work independently and meet deadlines.
Application Procedure:
Interested candidates are invited to submit their applications, including a resume and a link to their portfolio, to: [email protected] with the subject line "Website Designer Application – [Your Name]."
Deadline:
The application deadline is September 21 2023.
Application Requirements:
To be considered for this position, please submit the following:
A current resume detailing your relevant experience and qualifications.
A link to your portfolio showcasing your web design work.
A brief cover letter explaining why you are interested in joining Bahesu Foods and Suppliers and how your skills align with the position.
Any relevant certifications or references you may have.
Join Bahesu Foods and Suppliers and be part of a dynamic team that values creativity, innovation, and excellence. We look forward to welcoming a talented Website Designer who will help us take our online presence to the next level.
Please note that only shortlisted candidates will be contacted for interviews. Thank you for considering Bahesu Foods and Suppliers as your next career destination.