Part Time
Applications have closed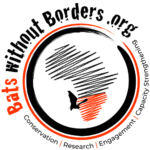 Website bats_w_borders Bats without Borders
Conserving bats, biodiversity and ecosystems in southern Africa
We have an exciting opportunity for a part-time Capacity Development Officer to join our team, based ideally in Lusaka, Zambia with our in-country partner BirdWatch Zambia (there could be an opportunity to be based in other southern African countries).
This role will support the capacity strengthening of early career ecologists, bat researchers and conservationists and bat group members.
We are looking for an enthusiastic, self-motivated and committed individual with excellent project management and communication skills.
​You will have a passion for capacity strengthening and a proven track record in developing training and capacity support, partnership working and people development.
To apply for this role, please send your application form to Ruth Fraser at [email protected]
Please ensure your name appears on the documents (e.g. Firstname_Surname_application form or monitoring form).
The application form can be found on our website.