Contract
Full Time
70% for every parcel delivered ZMW / Month
August 31, 2022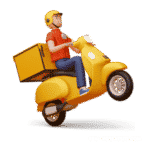 Website BwanguBwangu
Timely and speed deliveries
BwanguBwangu pickup N delivery is a registered and licensed courier and delivery company. Whose goal is to become the leading courier and delivery services company in Zambia, we make sure that every service deliveries we handle compete favorably with the best in the industry in terms of time and safety.
We are looking for motivated and time-oriented Travellers with their own Vehicles to be our partners.
The job duties of a Parcel Carrier involve the carrying and delivering parcels from and to our Offices using their own vehicles.
As a parcel carrier, you use the BWANGU BWANGU application to receive information about each delivery trip.
Your job duties include transporting documents, packages, or goods between sender and receiver.
A Carrier's responsibilities also include adhering to the most efficient route for each delivery.
Requirements:
Class A Drivers license (Rider's License)(having a Class B or C License is an added advantage for those who possess Class A License).
Grade 12 Certificate
Lusaka, Kabwe, Kapiri, Ndola, and Kitwe Residents
Our delivery strategy is simple; treat every client with utmost respect despite the status they hold. Our goal is constant communication and time deliveries above all, honesty.
Please be aware of fraudulent recruiting scams, do not send money to anyone suggesting they can provide employment