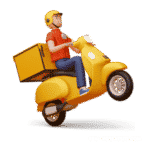 Website BwanguBwangu
Delivering the future, today
Bwangu-Bwangu Pickup & Delivery is seeking a goal-oriented and enthusiastic Operations Manager who will formulate strategies to improve performance, procure material and resources, and secure compliance. You should be ready to mentor your team members, find ways to increase the quality of customer service, and implement best practices across all levels.
Ultimately, we'll trust you to help us remain compliant, efficient, and profitable during the course of business.
Responsibilities
Ensure all operations are carried on in an appropriate, cost-effective way
Improve operational management systems, processes, and best practices
Purchase materials, plan inventory, and oversee warehouse efficiency
Help the organization's processes remain legally compliant
Formulate strategic and operational objectives
Examine financial data and use them to improve profitability
Manage budgets and forecasts
Perform quality controls and monitor production KPIs
Recruit, train, and supervise staff
Find ways to increase the quality of customer service
We're looking for someone who is willing to donate their time and skills to help us grow and succeed. In return, you will gain valuable experience and exposure to a growing start-up and have the opportunity to make a positive impact in your community and your Career development.
Skills and Qualifications
Proven work experience as Operations Manager or similar role
Knowledge of organizational effectiveness and operations management
Experience budgeting and forecasting
Familiarity with business and financial principles
Excellent communication skills
Leadership ability
Outstanding organisational skills
Degree in Business, Operations Management, or a related field
2 years relevant experience.
How to apply;
Kindly email your Cover letter, CV, and relevant qualifications as a single document in PDF format. to: [email protected]
Deadline; Friday 10th March 2023.
If you do not receive communication within 14 days after the closing date of the advert, please consider your application unsuccessful.