Full Time
Salary: Negotiable.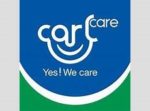 Carlcare Service Limited.
Freedom Way, Shop # 55 Southgate Shopping Centre, Lusaka.
Carlcare service limited is inviting well qualified candidates to fill in the vacant position of Technician. Qualified candidates will be conducting the following duties;
Job Responsibility For Technician;
1. Repairing 25 mobile phones a day.
2. Maintaining 100% quality of all the 25 phones.
3. Doing tear down and renewing phones for mother warehouse.
4. Providing reports on bounce repair from QC, HQ and CC about his performance on weekly basis.
5. All phones assigned must be repaired within 30hours.
6. Testing phones before going to QC.
7. Training new colleagues.
Candidates who meet the requirements mentioned above should submit their application letters and curriculum vitae with traceable referees and a daytime telephone number not later that Wednesday 2nd August, 2020 12:00hrs Zambian time. The application must be sent via email to [email protected]
Adress to: The Human Resource Office.