Contract
Applications have closed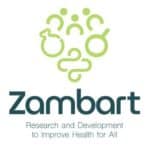 Zambart is a research-focused non-governmental organization that conducts research on HIV and Tuberculosis to help control and mitigate the impact of the dual epidemic. Zambart staff form an interdisciplinary team with a range of expertise including epidemiology, clinical science, social science, laboratory, operations research, health systems and services research, health policy analysis, health economics, health communication research compliance and counselling.
Study Summary: "Ubumi Bwandi" (My health, my choice): Integrated wellness screening and prevention in Zambia. The project is scheduled to run for 18 months from January 2023 to June 2024 and will be conducted in Chipukulusu-Mapalo community (intervention site) and Chifubu (as the control site), Ndola district. The Overall aim of the project is to improve the health of the community population by identifying individuals with undiagnosed TB, and other chronic conditions, as well as providing health information, multi-disease screening and preventive therapies. The implementation will be conducted at two levels, the primary health facility (Chipulukusu-Mapalo clinic) and a community hub which will be embedded within the community.
To support our wide range of research activities, there are exciting job opportunities for the following position:
Community Engagement Coordinator (01) – 12 Months Contract
Position summary: Reporting to the Study Manager. The Community Engagement Coordinator is tasked with strengthening links with communities through coordination of study team, community, and Community Advisory Boards (CABs) and promotion of community stakeholder involvement in the TB REACH study.
Responsibilities:
Work in liaison with TB REACH research team to develop quality IEC materials for the TB REACH study.
Liaise with Community Advisory Board (CAB) in planning and conducting community sensitization activities.
Organize training sessions for the CAB.
Assist in activity planning for the study.
Coordinate the community health care workers conducting the study's enumeration process.
Conduct regular CAB meetings to update them on any new study developments.
Coordinate with community leaders and other key stakeholders to mobilize community members to participate in TB REACH study.
Assist in recruiting participants in the qualitative operational study.
Build community stakeholder capacity within the TB REACH study materials.
Ensure programs are being carried out in a culturally sensitive manner.
Ensure timely submission of work plans and activity reports.
To be responsible for the promotion and organisation of local community engagement and listening events relevant to the study.
Assist in translation of study materials in local languages.
Requirements
Minimum of a diploma in Social Science or equivalent qualifications from a recognized academic institution.
One (1) year experience in utilizing participatory techniques for developing partnerships.
Fluency in one or more language(s) spoken in the target communities.
Awareness and understanding of the social realities of the TB epidemic.
Must be a resident of Chipulukusu Community.
How to apply
Applicants from outside Ndola should find their own accommodation and be willing to work away from home over extended periods.
Only applicants who meet the criteria for the above position should submit their application letters and CV to:
The Human Resources Manager,
Zambart Head Office,
UNZA Ridgeway Campus,
Off Nationalist Road
P.O. Box 50697
Lusaka
or email the application letter and CV only (without certificates) to [email protected] stating in the reference the position you are applying for.