Contract
Applications have closed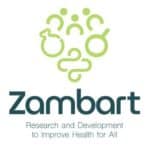 Zambart is a research-focused non-governmental organization that conducts research on HIV and Tuberculosis to help control and mitigate the impact of the dual epidemic. Zambart staff form an interdisciplinary team with a range of expertise including epidemiology, clinical science, social science, laboratory, operations research, health systems and services research, health policy analysis, health economics, health communication research compliance and counselling.
Study Summary: "Ubumi Bwandi" (My health, my choice): Integrated wellness screening and prevention in Zambia. The project is scheduled to run for 18 months from January 2023 to June 2024 and will be conducted in Chipukulusu-Mapalo community (intervention site) and Chifubu (as the control site), Ndola district. The Overall aim of the project is to improve the health of the community population by identifying individuals with undiagnosed TB, and other chronic conditions, as well as providing health information, multi-disease screening and preventive therapies. The implementation will be conducted at two levels, the primary health facility (Chipulukusu-Mapalo clinic) and a community hub which will be embedded within the community.
To support our wide range of research activities, there are exciting job opportunities for the following position:
Community Health Worker (04) – 12 Months Contract
Position summary: Reporting to the Study Manager. The study Community Health Workers (CHW) will be tasked with registration of Ubumi Bwandi cards to eligible community members at the community hub. Each CHW will be tasked with advocating for community members to go for screening and accessing health services at the hub and the clinic; carry out TB screening and other diseases at the hub; fill in electronic TB registers and paper registers.
Responsibilities:
Ensure that all eligible community members are given/provided with the Ubumi Bwandi cards.
Register community members necessary details and information should be captured on the electronic data capture devices (tablets).
Screening everyone who comes to the hub following the Standard Operating Procedure.
Be able to carry out simple screening tests such as blood pressure (BP) measurement, weight and height measurements, oxygen levels measurement using pulse oximeter etc.
Familiar with key TB/HIV information, use it to screen presumptive TB patients at the hub and deliver health education talks.
Ensure that all TB registers are updated and harmonized with the clinic TB registers.
Ensure effective TB household contact tracing is done.
Ensure that all patients screened for TB and other diseases make it to the clinic for initiation of treatment and follow up is done thereafter.
Timely and accurate recording of information in the TB registers and the electronic data devices (tablets).
Work with other CHWs, enumerators and study team members in the whole enrolment process.
Coordinate work between the clinic and the hub.
Ensure that the work environment (community hub) is kept clean and tidy at all times.
Deliver community screening outreaches in hot spots when necessary.
Requirements
Must be a grade twelve (12) and at least 21 years and above.
Good social communication skills.
Basic knowledge of TB/HIV and other common diseases
Traceable history and knowledge of research.
Computer literacy and ability to use an electronic data capture device (tablet).
A minimum of 2 years work experience as Community Health Worker
Fluency in English and bemba and any other local languages spoken Mapalo community.
Must be willing to work long hours and walk around in the community for household TB contact tracing.
Excellent communication skills.
Resident in Mapalo and is familiar with the community.
Able to interact with community members without difficulties.
Able to maintain high levels of confidentiality.
A team player and work effectively in a team.
Should have good work ethic/habits.
How to apply
Applicants from outside Ndola should find their own accommodation and be willing to work away from home over extended periods.
Only applicants who meet the criteria for the above position should submit their application letters and CV to:
The Human Resources Manager,
Zambart Head Office,
UNZA Ridgeway Campus,
Off Nationalist Road
P.O. Box 50697
Lusaka
or email the application letter and CV only (without certificates) to  [email protected] stating in the reference the position you are applying for.