Full Time
Applications have closed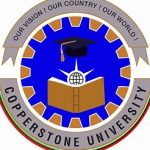 Website COPPERSTONE UNIVERSITY
OUR VISION! OUR COUNTRY! OUR WORLD!
Developing curriculum materials, including lecture notes, assignments, and exams.
Delivering lectures and facilitating discussions on various topics related to hospitality, such as hotel management, event planning, tourism, and customer service.
Creating and grading assignments, exams, and other assessments to evaluate students' understanding and progress.
Providing constructive feedback to help students improve their skills and knowledge.
Advising students on course selection, internships, and career paths within the hospitality industry.
Facilitating guest lectures, industry visits, or internships to provide students with real-world exposure.
Participating in departmental meetings and committees.
Involvement in community outreach or service projects related to hospitality.