Full Time
Applications have closed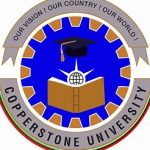 Website COPPERSTONE UNIVERSITY
OUR VISION! OUR COUNTRY! OUR WORLD!
A Nursing Principal Tutor plays a significant role in nursing education, overseeing the academic and clinical aspects of nursing programs education and development of future nurses,
Collaborating with the nursing faculty to design, review, and update the nursing curriculum in accordance with industry standards, regulatory requirements, and advances in healthcare.
Overseeing the day-to-day operations of the nursing program and ensuring that it aligns with the educational institution's goals and policies.
Coordinating clinical placements for nursing students, ensuring they have diverse and appropriate experiences in various healthcare settings.
Collaborating with faculty to develop and implement effective methods of student evaluation, including assessments, exams, and clinical evaluations.
Staying current with developments in nursing education, healthcare policies, and nursing practice to ensure the program's relevance.