Full Time
1000 Kwacha / Month
June 9, 2023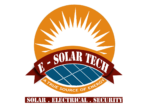 Website E- Solar Tech
The True Source of Real Energy.
E-Solar Tech is a company that is specialized in Electrical, Security, and Solar system which include Designing, installing, and supply of all types of Solar products such as batteries, inverters, geysers, charger controllers, Solar pumps Solar panels, etc.
we seek to employ an Office Assistant to be based at our Chingola Office, the person to be hired will be entitled to a K1000 Monthly salary and Commission on every sale made.
DUTIES.
1. Issuing Quotations to walking-in customers and those from our Facebook page and WhatsApp Business Account
2. Management of our social media accounts.
3. Answers customer calls, and questions and confirms customer orders.
4. Assists in setting up new client accounts
5. Maintains accurate records and enters data
6. Marketing of the company products and services.
7. Management of part-time Technicians.
Required Skills/Abilities
1. Excellent verbal and written
2. communication skills.
3. Excellent time management skills with a proven ability to meet deadlines.
4. Proficient with Microsoft Office Suite or related software.
5. Excellent interpersonal and customer service skills.
6. Should have an idea on Solar.
7. Should have Marketing Skills.
Qualifications
1. Tracible experience in the same field.
2. Should have an idea on Solar.
3. Must have a Grade Twelve certificate.
4. Should Know Excel and Word.
5. Must have a Zambian National Registration card.
6. Experience in Marketing Will be an added Advantage.
Note: Chingola Residents are highly encouraged to Apply