Full Time
Applications have closed
Salary: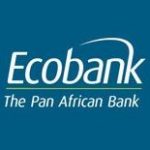 Website Ecobank Zambia Limited
Exciting Career Opportunity
Ecobank Zambia is a full service bank providing a broad range of products and Services to Consumer, Commercial and Corporate business segments within its 7 branches.
The bank's vision is to build a world-class Pan-African bank and contribute to the economic development and financial integration of Africa by providing customers with convenient, accessible and reliable financial products and services. The bank is an affiliate of the Pan-Africa Leader Ecobank Group which is present in 33 Countries in Africa.
In order to respond to our growing market with the required human capital, we are currently looking for an experienced professional in the following area:
BRANCH MANAGER ( LUSAKA & COPPERBELT REGION)
Job Title: Branch Manager
Reports to:
1. PRIMARY PURPOSE:
To lead a Domestic branch in driving and delivering exceptional business performance through the provision of excellent sales and service management, influential leadership, team development and the achievement of operational excellence. To achieve all operational and financial targets set by the bank and optimise the efficiency and productivity of staff and staffing structure at branch level.
2. PRINCIPAL ACCOUNTABILITIES:
Business Performance
Purpose
Delivery of sales, revenue, deposit, risk asset, targets and efficiency ratio.
Maintain target market, customers, product and service discipline.
Prepare and deliver on approved branch budgets.
Benchmark operational efficiencies against best practice in industry, local standards, and Group standards in order to make necessary adjustments internally for maximum effectiveness.
Deliver on customer service standards, acquisition and client satisfaction levels, retention of high performing clients and growing share of wallet as per target market.
Analyse sales and retention processes, identify and monitor new business opportunities through the analysis of MIS and industry and local knowledge.
Responsible for strict cost management including review of both direct and indirect costs generated by the branch. Achieve a cost/income ratio in branch of xx
Brief staff on product and promotional launches and provide regular feedback to staff.
Establish relationships with key clients and business influencers in the local community.
Track and maintain branch performance records including sales tracker, deposits, risk assets, provisions, incomes, costs and all relevant performance indicators on a daily, weekly, monthly, quarterly and annual basis including reconciliation with financial control.
Relationship Management & Customer Service
Purpose
Ownership of escalated customer queries/complaints and resolutions process.
Ensure customer queries are recorded, reviewed for delivery and put in place an action plan to prevent re-occurrence.
Achieve minimum of 5 products per customer and wallet share targets.
Achieve minimum customer satisfaction rating of 'very satisfied'.
Maintain 99% ATM, POS, printers and note counters etc. uptime.
Achieve minimum of 75% of customers registered for eAlert, SMS Alert, eStatement and active cards.
Interview all customers who want to close their accounts because of poor service in order to find the root cause and attempt to retain the customer.
Plan effective action plan for branch issues and communicate this to staff and ensure execution.
Provide feedback on performance of service providers.
Provide feedback to various sectors on the performance of staff e.g. IT, Operations etc.
People Management & Teaming
Purpose
Selection, appraisal and performance of branch staff including delivery of all KPIs.
Work with unit leaders and branch staff to achieve effective banking hall management and sales and service targets.
Build and develop a high performing team by driving performance development and coaching to achieve productivity and efficiency ratios for the bank and maximise the potential of staff.
Work with HR but own development plans, training needs and succession plans of branch staff. Ensure each staff attend at least 4 training interventions per annum.
Responsible for ensuring compliance with HR and other Group policies and the discipline of staff in the branch in conjunction with HR Head.
Ensure that staff Leave roster is in place and complied with.
Motivate staff through Ecobank incentive and recognition schemes to develop a fully engaged team.
Empower staff in the branch to develop sustainable client relationships and prospect within the community for increased domestic business.
Participate and implement Ecobank's transformation plan within the branch.
Provide cover for other branch managers when necessary.
Provide honest feedback on performance of colleagues. Share knowledge and best practice with team members and other branch managers.
Risk & Compliance
Purpose
Ensure all credit transactions comply with the spirit and the letter of all applicable laws, regulations and institutional policies.
Ensure compliance with operations risk e.g. Health & Safety, Security of premises, KYC and anti-money laundering measures plus any other Group controls.
Audit and conduct regular spot checks on all processes including transactions with high financial risk, branch contingency management systems, monthly proofs and reconciliations etc.
Overall responsibility for risk and compliance issues in order to achieve domestic bank targets.
Facilitate the investigation and reporting of Fraud and Loss cases together with Internal Controls.
Achieve minimum ARR rating of 'Acceptable'.
Ensure branch complies with branch layout standards, in-branch publicity, CAP Manual, KYC and all operating and risk policies and procedures.
3. SPECIALISED SKILLS/EXPERIENCE:
Experience: 4 years work experience in the Banking Industry
Education: Bachelor's Degree in Banking, or any Business related field.
Personal Attributes:
Proven leadership, organisation and mentoring skills.
Excellent analytical skills.
Dynamic, result oriented problem solver.
Strong commitment to team environment dynamics with the ability to contribute expertise and follow leadership directives at appropriate times.
Confident, articulate, with professional speaking abilities.
If you meet the requirements above and would like to be part of our vibrant and result oriented team, send your application clearly stating the position you are applying for in your cover letter with a detailed Curriculum Vitae including copies of your academic qualifications to:
Please ensure that you mention www.gozambiajobs.com as the source of this job advertisement.
Please note that only short listed candidates will be contacted. The closing date for receiving applications is 22nd March 2019.