Full Time
Applications have closed
Salary: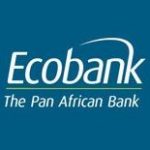 Website Ecobank Zambia Limited
Exciting Career Opportunity – Internal Controller
Ecobank Zambia is a full service bank providing a broad range of products and Services to Consumer, Commercial and Corporate business segments within its 7 branches.
The bank's vision is to build a world-class Pan-African bank and contribute to the economic development and financial integration of Africa by providing customers with convenient, accessible and reliable financial products and services. The bank is an affiliate of the Pan-Africa Leader Ecobank Group which is present in 33 Countries in Africa.
In order to respond to our growing market with the required human capital, we are currently looking for an experienced professional in the following area:
1. INTERNAL CONTROLLER
Purpose of the role
The purpose of the position is to ensure the implementation of an effective control process   in accordance with approved policies, management instructions, strategies and other established control documents within the affiliate. Support management of day to day Operational Control issues emanating from the business units within the across the bank.
The Internal Controller will be responsible for performing verification, General Ledger Monitoring, Account proofs and Reconciliations, Reviews of process in Head Office, Treasury and in the Branches.
Key Attributes
Ensure Policy/Procedure/Regulatory Compliance in area of oversight in the Bank
Drive the GIC Control Awareness Campaign to support Businesses and Functions to minimize (reduce) Financial Losses arising through frauds for branches and Operations and other event categories.
Ensure integrity of the transactions and General Ledger accounts in the Bank through daily reviews and reconciliations. Ensuring that open items in the GL accounts are current and reflect the true nature of the products recorded therein. Any major deviation from the standard must be escalated following the appropriate procedures.
Provide quality and timely Operations Control critical issues reports to the Country Head, Internal Control.
Engage relevant partners to ensure timely implementation of corrective action plans on identified control weaknesses from internal and external reviews
Create and improve homogenous Compliance Culture in the Bank that aligns with the control and business objectives of the Bank
Qualifications and experience
University Degree preferably with Accounting or Finance or any other Banking related field (Accountancy, Finance, Business, Economics, Banking, etc.).
Computer Literate – Advanced level
Excellent written and oral communication skills with senior audience experience
Minimum of 3 years work experience in a financial institution preferably in back office functions.
Experience in control or audit functions & operations.
If you meet the requirements above and would like to be part of our vibrant and result oriented team, then send your application with detailed Curriculum Vitae including copies of your academic qualifications to:
Please note that only short listed candidates will be contacted. The closing date for receiving applications is 14th December 2018. Please ensure that you mention www.gozambiajobs.com as the source of this job advertisement.