Full Time
Applications have closed
Salary: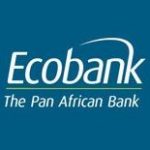 Website Ecobank Zambia Limited
Exciting Career Opportunity
Ecobank Zambia is a full service bank providing a broad range of products and Services to Consumer, Commercial and Corporate business segments within its 7 branches.
The bank's vision is to build a world-class Pan-African bank and contribute to the economic development and financial integration of Africa by providing customers with convenient, accessible and reliable financial products and services. The bank is an affiliate of the Pan-Africa Leader Ecobank Group which is present in 33 Countries in Africa.
In order to respond to our growing market with the required human capital, we are currently looking for an experienced professionals in the following area:
LOCAL ACCOUNT MANAGER, CORPORATE BANKING (LUSAKA)
Job Title: Senior Relationship Manager– Corporate Banking
Reports to: HEAD CORPORATE BANKING
JOB PURPOSE
To provide assistance and supports to Global/Regional Account Managers in order to grow the in country Corporate Bank relationships, business revenue in a profitable and cost effective manner.
To understand client needs and objectives and identify opportunities for Corporate Bank to support client in addressing or escalating problems and challenges relating to sustainable growth and profitability.
KEY RESPONSIBILITIES
Sales & Relationship Management
Manage local relationships under GAMs/RAMs and/or CB Head guidance and supervision
Manage the in-country relationship to ensure the smooth running of the account.
Devise and propose service development initiatives
Advise on areas such service enhancement within the country
Implement any improvements agreed to on a local level.
Regularly review country performance
Support the Global Account Manager on implementing customer agreed global strategy.
Attain targeted sales goals, performance targets and customer satisfaction through the effective management of resources.
Together with GAMs/RAMs, review Account Plans for all networked customers with a view to enhancing business volumes and earnings.
Conduct joint sales with GAMs/RAMs and product team with emphasis on cross selling to increase wallet share for Ecobank.
Business Development
Implement marketing strategies to develop existing portfolio and develop new opportunities.
Understand customer needs and provide with products and services to satisfy clients' needs and achieve business objectives.
Develop executive contact plan and arrange meetings with appropriate GAMs/RAMs.
Prepare and agree with GAM on local account plan as well as appropriate credit grade, and maximize returns in line with business strategy.
Credit Process
Assess risk and business strategies of local subsidiary/associate/affiliate and ensure compliance with local regulatory requirements.
To be aware and fully understand all terms of a Group Application or Single CA, including the parental support arrangement relative to the particular relationship.
Provide information on single CA application
Agree pricing with GAMs/RAMs for Global/Regional names.
Ensure no loss of valued local corporate relationships.
Keep GAM regularly appraised of any local developments that may impact credit standing of the group.
Qualifications & Experience
At least 5 years' experience in sales with a good sales track record preferably in Wholesale Corporate Banking
Ability to interact and negotiate with the client organisation at the Local decision making level
Customer focused & results oriented
Good verbal and written communication skills
Good Organisational and time management skills are highly desired
Ability to pull together various resources to sell and deliver customer solutions
Results driven team player
Inclusive, flexible, savvy and sensitive to client culture.
Bachelor's/Master's Degree in Business Administration, Marketing or any related field of study.
If you meet the requirements above and would like to be part of our vibrant and result oriented team, send your application clearly stating the position you are applying for in your cover letter with a detailed Curriculum Vitae including copies of your academic qualifications to:
Please ensure that you mention www.gozambiajobs.com as the source of this job advertisement.
Please note that only short listed candidates will be contacted. The closing date for receiving applications is 22nd March 2019.