Full Time
Applications have closed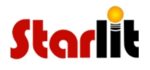 Website Eurolite Pty Ltd. (Starlit)
Electrical & Solar LED Lighting company
Note: Please apply only if you have selling experience in the products like LED Bulbs, LED Downlights, LED Panels, LED Floodlights, Outdoor Lights etc. We are not considering candidates from other fields.
Job Title: Sales Representative for a LED Lighting Company
Salary: As per market standard
Responsibilities: Business development, Sales & marketing, Customer visits, meet monthly & daily sales target
Required Qualifications: Must have 3-5yrs Sales experience in the LED lighting industry
Company profile:  Eurolite Pty Ltd.; SABS approved company based in Johannesburg, South Africa, deals with the brand name Starlit in South Africa, Botswana, Namibia, Swaziland, Zambia, Zimbabwe etc. We provide a wide range of Indoor & Outdoor Lighting such as Ceiling Lights, Downlights, Panel Lights, LED Bulbs, LED Tubes, LED Fixtures, LED Floodlights, Bulkheads, Emergency Lights, Solar flood lights etc.
Email your Resume on [email protected]
Or contact HR on +27 (0) 11 083 6909
website: www.starlit.co.za