Contract
Applications have closed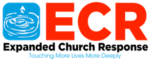 Website EXPANDED CHURCH RESPONSE
Not for Profit Organisation
 Expanded Church Response (ECR) is a faith-based organization implementing Orphans and Vulnerable Children, Gender-Based Violence and HIV/AIDS programs amongst others to mitigate human suffering and bring transformational development.
ECR has implemented programs funded by USAID, CDC, European Union, UNICEF, and Global Fund either directly or through a range of highly regarded local and international organizations. Working with partners like these, the private sector, and government, we are seeing communities awakened to new ways of improving the quality of life for the most vulnerable, and rise up to be the key to their own transformation.
ECR is collaborating with No Means No Worldwide to implement the No Means No program, an evidence based child safety and violence prevention/ dual-gender program that teaches girls to set boundaries, stand up and defend themselves and boys to challenge rape culture, ask for consent and intervene in attacks. Research has shown a 47% decrease in the incidence of sexual assaults among girls taught No Means No, which has led to endorsements from the World Health Organization, the CDC, UNICEF and the Global Partnership to End Violence Against Children.
POSITION DESCRIPTION
No Means No Instructors will first go through an intensive 4-week training to learn the proven No Means No system of violence prevention, intervention and recovery. During this training, you will master an 8-hour curriculum for boys/or girls ages 10-20 that impart gender norms, consent, intervention skills etc. as well as feminist philosophy and human rights. After the 4-week training, as a No Means No Instructor, you and your teaching partner will then be responsible for implementing the No Means No curriculum with boys /or girls aged 10-20 in your own communities. By participating in this training and teaching No Means No classes in your community, you are joining the international No Means No family in actively working to end gender-based violence and the global rape epidemic.
4-WEEK TRAINING EXPECTATIONS FOR CERTIFICATION
Active participation
Present for at least 85% of days of training
Timely arrival to all training sessions
Positive attitude during training sessions
Ability to use feedback as a way to improve on any weaknesses as an instructor
A strong understanding of the curriculum and motivation to teach the program effectively
Enthusiastic desire and commitment to the global movement to end rape
POSITION: No Means No Instructor –  Female (30) and Male (30)
LOCATION: Lusaka (Bauleni, Emmasdale, Chaisa, Garden, Chainda, Kaunda-Square, Lilayi, Kabanana,  Mandevu, Chunga, Matero, Chelstone,  Kamanga and Chawama)
REPORTS TO:  No Means No Project Coordinator
QUALIFICATIONS (for both the Female & Male   No Means No Instructor Candidates)
Grade 12 certificate, certificate or diploma in social sciences, public health or any related field will be an added advantage
Age 19+ (Ideally between 20 – 35)
Preferably must reside in one of the communities listed below where s/he will be expected to conduct No Means No sessions
Available for a 3 – 4 week, full-time training & regular delivery of the program with adolescents/youth beginning immediately after
Proficient in English & local language(s)
Good listener & communicator in both English and local language(s)
Passionate about working with and being a mentor to adolescents/youth participants
Experience working in the field of GBV (ideal)
Driven to help end the global rape epidemic
Enthusiastic about the rights of both women and children
Leadership qualities (Critical thinking, Humility, Honesty, Determination, Flexibility)
If you feel you have what it takes, submit a cover letter (with a short statement why you are interested in applying for this position, relevant experience facilitating/teaching adolescent/youth)  and an updated CV to the Human Resource Officer using the email [email protected] or drop a hard copy at Plot 9680, Central Street, Chudleigh, Lusaka.
The closing date for receiving applications is Friday, 10th June 2022.