Full Time
Applications have closed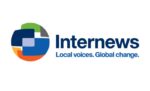 About Internews:
Internews is an international non-profit organization dedicated to giving people the news and information they need, the ability to connect, and the means to make their voices heard. Since its formation in 1982, Internews has worked in more than 100 countries worldwide. Working in Sub-Saharan Africa since 1998, Internews currently has offices and projects throughout the region with its regional office in Nairobi.  Internews USAID-funded Open Spaces Zambia project seeks to support an open, inclusive environment in which media and civil society provide accurate and impartial information that promotes participation, inclusion, and accountability.
Position Overview:
The Advocacy Officer carries out public and private advocacy work in legal and policy reform in working towards the creation of an enabling environment for media, civil society and human rights defenders. The Advocacy Officer will collaborate closely with the Programs Manager, the Senior Media Lawyer and occasionally the Chief of Party.
Description of main duties and responsibilities:
Program Support, Facilitation & Skill-Building:
Training of civil society, media in advocacy
Support the OSZ consortium, civil society in advocacy
Build skills of relevant persons in achieving legal and policy reforms
Collaborate and assist government partners, semi-government partners in various legal and policy issues to enable a good environment for media and civil society
Produce advocacy training materials including policy briefs, notes, news and opinion articles
Assist the programmes team in reviewing partner reports
Research, Documentation, and Reporting
Research on various laws
Ability to produce advocacy and learning materials on policy briefs on various laws and policies
Provide analysis and reports on advocacy points the project is focused on.
Review draft laws and make recommendations based on a human rights framework
Administration:
Able to organize civil society, media and government convenings
Qualifications, Skills and Abilities:
A degree in human rights or development or law or media (journalism) or international relations
Understanding Experience in Access to Information advocacy and Freedom of Expression Laws
Understanding of the United Nations Human Rights Council mechanism
Thematic expertise in digital Rights and journalist Rights
Experience with or knowledge of the African Union and global laws on freedom of expression
Assist the project in the preparation of reports. Ensure comprehensive reports are compiled, including participation records and other M&E data as required.
Excellent written, oral and presentation skills.
Professional-level fluency in English.
Ability to multi-task and proven organizational skills, with strong attention to detail
Experience with NGOs advocacy and media advocacy an added advantage.
Practical experience in training programs on human rights.
How to Apply:
1.   Write a short cover letter that includes your telephone number and email.
2.   Include your CV
3.   This position is for Zambian nationals only. Qualified and experienced Zambian female applicants are encouraged to apply.
4.   Email your application to [email protected] stating the name of the position in the subject line.