Full Time
Applications have closed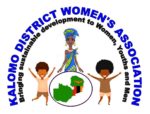 KALOMO DISTRICT WOMEN'S ASSOCIATION
BACKGROUND
Kalomo District Women's Association (KDWA) is a women led Organisation that is registered under the registrar of societies whose members are derived from different women groups in the district. Kalomo District is a strong base for building women's voices at community level with the aim of enhancing women's economic empowerment in their communities, as the main focus aims at income generating activities. Kalomo District Women's Association have partnered with We Effect Zambia to implement the Swedish funded Women Economic Empowerment (WEE) project. The project activities will be implemented at community level through the DWA. Kalomo District Women's Association has a total membership of 3200 rural and urban women from 13 Area Associations.
KEY RESPONSIBILITIES
Conduct regular monitoring and follow up field visits to project sites
Routine data collection using approved project data collection tools
Organize and undertake trainings with collaboration of partners to help women realize their needs in the community
Help in facilitating technical support in meetings held in the project sites
Develop a plan for project –related capacity building on M&E for any computer-based support that may be required.
To support field lead farmers in setting up systems for the project
Review the quality of existing data in the project areas the method of collecting it and degree to which it will provide good baseline statistics for impact of evaluation
Assist in the development and finalization of the project work plan
Develop the framework for project in mid and long teams
Submit monthly and quarterly reports to the project coordinator
QUALIFICATIONS
Diploma or Degree in Agriculture or social work with at least 5years of experience
Must be able to ride a motor bike and have a valid license
Previous experience with any donor-funded programs
Results-oriented and conversant with the local language
Demonstrated team player with effective cross-cultural interpersonal skills.
Knowledgeable in Word, Excel, Power Point
Kalomo District Women's Association is an equal opportunity employer. All qualified applicants will receive consideration for employment without regard to race, religion, color, national origin, gender, gender identify, sexual orientation, age, status as a protected veteran, among other things, or status as a qualified individual with a disability.
Applicants for this position must have a clean record and traceable references. Candidates must include a day time contact number. Applications can be sent through email [email protected]
Applications to be submitted not later than 18th January, 2023.