Contract
Applications have closed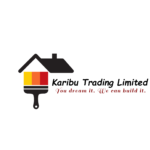 Karibu Trading Limited
Karibu Trading Limited is a full service, multi-discipline, project development and execution company. Karibu Trading was established in 2009 as a sole proprietor business and was later incorporated into a Private Limited Company in 2018. Over the years, the company has undertaken many challenging projects and accumulated skills, know-how and experiences in civil works, construction, and project management.
Today, Karibu Trading Limited takes on the role of main contractor for small to medium size projects and performs project management services to coordinate specialist trades for industrial/commercial projects. We also provide design inputs and engineering solutions as value-added services to our clients. The company wholly owned by Zambians who are motivated by the desire to make a positive contribution to the economy of the country. Karibu Trading was established based on the belief that, the ordinary Zambians deserve the access to world class services at competitive local rates.
We are looking for well-organized Bricklayers x(3) to carry out construction works at our site in Lufwanyama District of the Copperbelt Province.
Key Responsibilities
The holder of this position will be required to adhere to all relevant requirements, policies, procedures, and legal regulations pertaining to health, safety, environment, and quality, as well as finance, human resources, and any other regulations as required by the company and relevant to the level of the role and responsibilities of the function.
Must be able to understand and interpret architectural drawings and plans.
Must be able to prepare and set out any concrete, brick or blockwork works in accordance with the relevant standards.
Carry out concrete and mortar surface finish work to set quality standards.
Lay tiles, pavers and any other ground, floor or wall finishes in accordance with buildings standards.
Carry out any corrective works identified by the Supervisor in accordance with building standards.
Carry out any tasks assigned by the buildings supervisor to ensure that works are completed in accordance with set quality standards.
Must be able to construct and disassemble scaffolding with attention to safety.
Must be proficient in the use of a dumpy level with good knowledge of building and construction.
Must be able to work in a team.
Qualifications
Minimum of a Full Grade Twelve School (Grade 12) Certificate
Craft Certificate from a recognized institution
Experience
A minimum of five years' work experience.
Interested candidates who meet the above listed requirements should email their CV's and copies of their certificates to: [email protected] not later than Monday, 8th August 2022.