Contract
Applications have closed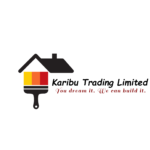 Karibu Trading Limited
Karibu Trading Limited is a full service, multi-discipline, project development and execution company. Karibu Trading was established in 2009 as a sole proprietor business and was later incorporated into a Private Limited Company in 2018. Over the years, the company has undertaken many challenging projects and accumulated skills, know-how and experiences in civil works, construction, and project management.
Today, Karibu Trading Limited takes on the role of main contractor for small to medium size projects and performs project management services to coordinate specialist trades for industrial/commercial projects. We also provide design inputs and engineering solutions as value-added services to our clients. The company wholly owned by Zambians who are motivated by the desire to make a positive contribution to the economy of the country. Karibu Trading was established based on the belief that, the ordinary Zambians deserve the access to world class services at competitive local rates.
We are looking for an experienced plumber to install, maintain and repair sanitation units, water supply lines, and associated fixtures and appliances in residential, commercial, and industrial structures. You will also be required to design and inspect plumbing systems, perform diagnostics, and ensure they comply with regulatory codes.
To be successful as a plumber you should be able to work independently and solve problems as quickly and efficiently as possible. To excel in this position, you should have strong technical skills, be a master at troubleshooting and enjoy dealing with people.
Responsibilities:
Reading and interpreting blueprints to assess or plan plumbing installations and layouts.
Installing, maintaining, and repairing plumbing systems and fixtures.
Fitting and repairing various household appliances.
Cutting, welding, and assembling pipes, tubes, fittings, and fixtures.
Inspecting and testing plumbing systems for safety, functionality, and code compliance.
Handling customer queries and responding to call outs.
Troubleshooting and resolving problems.
Preparing cost estimates.
Requirements:
Trade school diploma or craft certificate.
2+ years of experience as a plumber.
Good working knowledge of water supply, heating, and ventilation systems.
Proficiency in reading blueprints and using plumbing tools.
Strong critical thinking and troubleshooting skills.
Good listening and communication skills.
Good interpersonal skills and patience.
Physical dexterity.
Interested candidates who meet the above listed requirements should email their CV's and copies of their certificates to: [email protected] not later than Monday, 8th August 2022.