Full Time
Part Time
3000 ZMW / Month
Applications have closed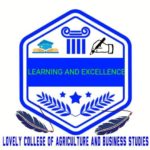 LOVELY COLLEGE OF AGRICULTURE AND BUSINESS STUDIES
LOVELY COLLEGE OF AGRICULTURE AND BUSINESS STUDIES is looking for qualified and self disciplined individuals to fill in the following lecturing positions.
1.Business Administration ( Economics, Entrepreneurship, Business Law )
2.Human Resource Mgt ( HRM, Employment law, Principles of management)
3. General Agriculture ( Soil science,Zoology, Botany, Maths)
QUALIFICATIONS
1. Full G12 certificate with 5Olevels or better
2. Must posses a degree in a position applying for
3. Kafue resident
Only individuals who meet the above criteria should apply.
Commencement date: Wednesday 09th November 2022.