Part Time
K80/HR ZMW / Month
Applications have closed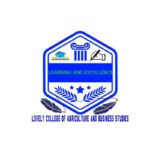 LOVELY COLLEGE OF AGRICULTURE AND BUSINESS STUDIES
LOVELY COLLEGE OF AGRICULTURE AND BUSINESS STUDIES is currently looking for trained Tutors in the following programmes to be based in Kafue at KAFUE CAMPUS.
General agriculture ×3
Business Admin/HRM ×2
Paralegal ×1
QUALIFICATIONS
1. G12 certificate
2. Bachelor's degree in the field applying for
3. Valid TCZ teaching certificate
4. 2 years teaching experience
5. KAFUE RESIDENTS ONLY
Interested individuals should send their transcripts and CV not late than 24th September 2022.
N/B: Only the shortlisted candidates will be contacted