Internship
Applications have closed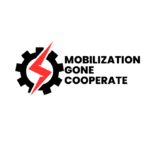 Mobilization Gone Cooperate
Are you a dynamic and motivated student looking to gain valuable hands-on experience in the exciting world of marketing? Mobilization Gone Corporate invites you to join our team as a Marketing Intern, where you'll have the opportunity to work on real projects and learn from experienced professionals in the field.
About Us:
Mobilization Gone Corporate is a dynamic and innovative company that specializes in mobilizing resources and driving corporate social responsibility initiatives. We are dedicated to creating meaningful change and making a positive impact in our communities.
What You'll Gain:
Practical experience in marketing, advertising, and campaign development.
Exposure to a diverse range of projects in the field of corporate mobilization.
Mentorship and guidance from our experienced marketing team.
Insights into the inner workings of a dynamic and socially responsible company.
A chance to apply your classroom knowledge in a real-world setting.
Key Responsibilities:
Assist in the development and execution of marketing campaigns.
Contribute to social media content creation and management.
Support the marketing team in data analysis and research.
Participate in brainstorming sessions and strategy development.
Assist in organizing and promoting events and initiatives.
Requirements:
Currently enrolled as a student at a recognized educational institution.
Pursuing a degree in Marketing, Business, Communications, or a related field.
Strong communication and teamwork skills.
Enthusiastic and eager to learn.
Ability to work in a fast-paced environment.
Basic knowledge of marketing principles is a plus.
Location: Lusaka
How to Apply:
If you're a student ready to take the first step in your marketing career and make a meaningful impact, we'd love to hear from you. Please submit your resume and a brief cover letter outlining why you're the ideal candidate for this internship to [email protected]
Application Deadline: 10 October 2023
At Mobilization Gone Corporate, we believe in the power of unity and cooperation, and we're excited to welcome a dynamic student like you to our team. Join us on this journey of making a difference while gaining valuable experience in marketing.