Full Time
Applications have closed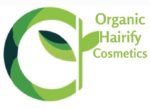 Organic Hairify Cosmetics
Changing and Transforming Lives
Organic Hairify Cosmetics is an indigenous Zambian company that realized that we can tap into the blessings of Africa by using most of the organic as well as natural plants and herbs found in the continent to produce quality hair care and beauty products.
We produce exceptional and natural cosmetics and beauty products for households in Africa and the world and we plan to continually research and develop brands that will put a smile and provide value for money to our customers. "We think it and we make it"
Organic Hairify Cosmetics is on a continuous recruitment exercise looking for Field Sales Agents
In our ongoing recruitment exercise, Organic Hairify Cosmetics are looking for competitive Field Sales Marketers in Lusaka who are able to sell a range of cosmetics and attract new clients. Successful Field Sales Marketers will source new sales opportunities and sell to achieve set out targets. Successful candidates will play a key role in increasing income and revenue by negotiating with clients, and managing sales of our products.
Responsibilities
"Get the sale" using the door to door method and thinking outside the box to generate sales.
Meet personal sales targets
Report and provide feedback to management
Maintain a client database from all sales made
Make follow ups on customers on a periodic basis
Requirements and skills
Proven field sales experience
Track record of over-achieving the Company targets
Strong communication, negotiation and interpersonal skills
Self motivated and drive
Be of strong and resilient character
Be serious minded and focused
Subject heading on email should read Field_Sales_Marketers for your application to be considered.