Contract
Applications have closed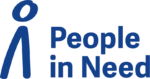 Name of the position: Communications Officer
Location: Mongu (with frequent visit to Lusaka)
Contract duration: 6 months (with Possibility of extension)
Start Date: (as soon as possible)
Line Manager: Director
Application deadline: First week of September ( applications will be processed on the rolling basis)
Salary: Candidates will be informed about the salary range in the beginning of the recruitment process
People in Need (www.peopleinneed.net) works in Zambia since 2017 delivering lifesaving and development assistance to vulnerable people in the sectors of nutrition, livelihoods, WASH, environment and good governance. We are part of Alliance 2015, a strategic network of seven European non-governmental organizations engaged in humanitarian aid and development projects. Lear more here: www.alliance2015.org
We are committed to ensuring diversity and gender equality within our organization and encourage applicants from diverse backgrounds to apply.
POSITION SUMMARY: Under the direct supervision of Country Director, the Communications Officer is responsible for overall management of PIN communication and visibility actions in Zambia. In partnership with Programme staff and support departments, Communications Officer prepares media outputs (fb posts, website updates and articles, press releases, etc.), supervises production of visibility materials and communicates with the local medias. In order to develop good quality content, he/she is expected to regularly travel to the project's sites.
Key Responsibilities
Producing case studies, press releases, blog pieces, articles and other communications material about PIN's overall activities, projects and beneficiaries directly in the field or in close cooperation with PIN teams.
Creating short videos, photos and managing the photo archive of PIN projects and activities and assisting in the production of videos and photos prepared by external contractors.
Sharing collected materials with CD, PMs, HQ Communication & Advocacy Department on a regular basis.
Networking with journalists and actively pitching stories to national news outlets and journalists, providing information about the programs and coordinating between the media and project staff, and accompanying journalists (national and international) on field visits.
Maintaining the journalist contact list.
Managing PIN Cambodia's social media platforms, particularly Facebook, by creating and sharing engaging content regularly
Assisting with other project-related tasks as assigned by the line manager
Regularly reviewing and drafting project visibility and communication plans in close collaboration with program managers and project staff.
Creating and updating information materials (brochures, leaflets, annual reports, etc.) about PIN's work in collaboration with project teams and ensuring they are in line with PIN's brand.
Organizing promotional, communications and other key events for PIN and secure the presence of the media. This may include acting as moderator.
Identifying innovations and best practices and provide regular training and advice to PIN staff in regards to visibility and communication (e.g. good/bad practices in visibility and communication, speaking to the media, case study information gathering, etc.)
Submitting a report to the line manager outlining updates and highlights each week.
Creating PIN visibility materials such as t-shirts, banners and publications while ensuring they comply with donor requirements (i.e. disclaimers, size and type of logo, etc.) in collaboration with project staff and logistics departmentRequirements
Demonstrates excellent ability to write, take photos and communicate orally with accuracy and professionalism
Growing experience in public relations, communications or using basic advocacy tools
Ability to instruct colleagues working in the field regarding communication tasks
Ability to outsource graphic designers or videographers
Able to work with minimal supervision
Must be very excellent with using computer and all Microsoft package ( word, excel, PowerPoint, internet tec.)
Able to work under presure
Essential
Must have at least 2 years hands on experience in the same role
Ability to work as a team
Having good qualification in Communications, Journalism and Public relations or related field is a must.
Able to understand and speak Lozi is an added advantage
Ability to assess problems and recommend solutions
Benefits
WHAT PEOPLE IN NEED ZAMBIA OFFERS
Salaries are according to People in Need Salary Scale. Candidates will be informed about the salaries in the beginning of the recruitment process
24 annual leave per year
Contributions of Health Insurance (Nhima) as by Law
Accident insurance for all injuries during work time
National pension scheme contributions as by law
Extensive Capacity Building program, both internal and external trainings
Induction training
internal online opportunities, such as access to e-learning platform and webinars
Month contribution for phone tariffs
Annual Staff retreat
International environments with opportunities to learn from other country
programs and HQ office in Prague
Paternity leave of 5 days and maternity leave of 14 weeks
Breastfeeding breaks for nursing colleagues
Internal mobility
Per diem for working outside of the duty town depending on the location
Friendly and fair environment in small collective structure where everyone knows each other
We have lunch break with meals available at the office
2 health breaks twice per day.
People in Need is committed to preventing any type of unwanted behavior at work including sexual harassment, exploitation and abuse, lack of integrity and financial misconduct and committed to promoting the welfare of children and adults with whom People in Need engages /is in contact with. People in Need expects all staff to perform job duties and responsibilities in accordance with People in Need Code of Conduct and key policies (available at: www.peopleinneed.net/key-policies-4142gp ). People in Need Staff will undertake the appropriate level of training.
All offers of employment will be subject to satisfactory references and appropriate screening checks, which can include criminal records and terrorism finance checks.
Please note that PIN never exchange any form of material, services or money for employment.
Are you interested in joining us? Send us your CV which includes the contacts on your referees. Ideally, we need the name and email of your two previous line managers and one of HR. Apply using this Link : https://apply.workable.com/j/A8E6ABBADA/?utm_medium=social_share_link