Full Time
Applications have closed
September 28, 2023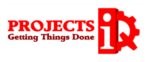 Project IQ Consultancy Limited
Getting Things Done
Projects IQ Consultancy Limited is an organisation that manages the various phases of a project acting as an extension of the owners/organization. Depending on the project's requirements, we establish the procedure for the appointment of an Architect/Engineer to produce the design and a main contractor covering all phases from preconstruction through completion and act as the single point of contact with the owner/client.
In essence, we ensure that we provide situation-based, practical solutions to our clients and as our tagline states, we "Get Things Done!"
Projects IQ seeks to expand its team by hiring an electrical engineer.
The Electrical Engineer will be responsible for:
Overseeing electrical projects from their design to implementation and advise the companies on proper solutions for each project.
Conducting analysis on the design of an electrical system in a commercial or residential building and suggest solutions or possible improvements.
Coordinating the installation of new systems and consult with organizations on potential safety issues.
Meeting existing and potential clients and establishing positive relationships
Understanding what the client or company wants to achieve
Defining the technical requirements and feasibility of a project
Outlining timescales, costs and resources needed to design and deliver an electrical operations project
Making sure the work follows strict health and safety guidelines
Complying with the National Grid and other regulators and managing grid connections
Developing step-by-step project plans
Leading a multi-disciplinary project team
Negotiating with designers, engineers, contractors and suppliers
Liaising with staff at every level
Overseeing several aspects of a project at the same time
Ensuring each stage of the project happens on time, on budget and to a high standard
Sharing regular progress reports with the client and stakeholders
Resolving any issues or delays
Qualifications:
1. Minimum of Bachelor's Degree in Electrical Engineering.
2. Needs to be registered and officially affiliated with EIZ.
3. Ability to generate drawings of an electrical nature to enhance informed decision making.
4. Proficiency in English (spoken and written).
5. Proven leadership skills in a project environment.
6. Project Management expertise are desirable.
7. Willingness to travel within and  outside of Lusaka as required.
8. Sufficiently tech savvy and able to work with Microsoft packages.
Female candidates are encouraged to apply