Consultancy
Applications have closed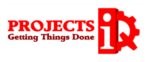 Project IQ Consultancy Limited
Getting Things Done
The Electrical Engineering Consultant should be able to understand complex electrical systems and provide analysis on the efficiency of a design. Analytical and problem-solving skills are necessary for an electrical engineering consultant, as is physical stamina. Consulting firms and electric companies frequently hire for these positions, but you can also work on a contract basis.
Qualifications
Qualifications needed to become an electrical engineering consultant include:
1. A bachelor's degree in Electrical Engineering and
2. Hands-on electrical engineering or design experience.
3. Since the Electrical Engineering Consultant's duties are to oversee projects and provide solutions to functionality and safety issues, he/she should also have project management experience.
Job Description
An electrical engineering consultant usually works with a consulting firm or an electric company.
The Electrical Engineering Consultant:
Will oversee electrical projects from their design to implementation and advise the companies on proper solutions for each project.
Will conduct analysis on the design of an electrical system in a commercial or residential building and suggest solutions or possible improvements.
May coordinate the installation of new systems and consult with organizations on potential safety issues.
The job duties require traveling to job sites to meet with clients and carry out their projects.