Full Time
Applications have closed
September 30, 2023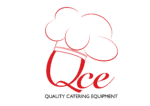 QCE
Founded in 2013, Quality Catering Equipment is a specialist in t
PURPOSE OF JOB
The broad purpose of the occupation is to install, commission, maintain and repair commercial catering equipment, such as combination ovens, fryers, grills and griddles, cooking ranges, dishwashers, microwave ovens etc. Equipment may be gas or electrical and may involve plumbing and electronic controls also experience on commercial refrigeration equipment
Sites include restaurants, public houses, hotels, cafes, schools, hospitals, prisons, care homes, Ministry of Defence sites and many more
Installations involve unpacking and in some cases assembling equipment, connecting in accordance with the equipment manufacturer's instructions to suitable services (gas, electricity, water and drainage) and commissioning. Where an installation involves the removal of equipment, they disconnect the redundant item, remove it to a safe area for disposal and make safe any services no longer required.
On maintenance visits, they visually inspect the equipment, check the services for any problems, carry out maintenance tasks as specified by the manufacturer, and test the equipment is functioning as designed.
On repair visits, they establish the problem from the customer, check the faulty item to confirm the problem, diagnose the fault, adjust or repair or replace faulty components, and test the equipment after repair to ensure that it is working correctly.
In their daily work, an employee in this occupation interacts with venue personnel, such as chefs, catering managers, facilities managers, managers/owners and kitchen staff.
Personnel from equipment manufacturers technical support services, and equipment and spares suppliers' sales and technical staff. They may also liaise with Environmental Health Officers and other trades personnel, such as builders, electricians etc. Internally, they will interact with company management, office staff and other technicians.
You will be reporting to the head of maintenance.