Contract
Applications have closed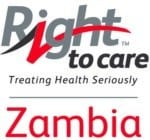 Right to Care Zambia
Treating Health Seriously
QUALIFICATION AND EXPERIENCE
Minimum Required Qualifications and Experience:
Degree in Health-related field or Social Science, or 4 years of relevant experience
A course in HIV Management will be an added advantage.
A Certificate in Project Management or a good understanding of project management
Training and Facilitation skills
Desirable Qualifications and Experience
4 years' experience in a health/social science or related field
Experience in Supervising a high number of staff (a minimum 20) and above in a similar position.
Ability to analyse data, monitor and evaluate report effectively.
Previous experience working in a similar role within the NGO sector an added advantage.
A Master's Degree in a related field will be an added advantage
TECHNICAL BEHAVIOURAL  AND COMPETENCIES
Confidence and self-control
Initiative
Ethics and integrity
Planning and organising
Professionalism
KEY PERFOMANCE AREAS
Generation of HTS plans and support plan generation of hubs and facilities.
Participate in SOP generation and tools development.
Conduct continuous Performance reviews for Hub HTS Coordinators.
Track progress of HTS activities implementation in USAID-Action HIV supported facilities in the province.
Identify programmatic performance gaps and capacitate on gaps identified.
Identify training needs and assist in the develop training plans for programmes and supported facilities/management
areas.
Provide intensive hands-on site technical supportive supervision and mentorship to all DSD supported Volunteers involved in HTS to ensure that they are implementing high yielding strategies – Indexing/PNS, PITC, Targeted Community Hot Spot testing, HIV Self-Testing and EID/NAT/PCR antigen test, Adolescents, paediatrics, and men.
Ensure that all DSD supported counsellors in DSD Health Facilities who are involved in HTS are well trained in High Priority HTS impact interventions.
Work closely with the facility/District/ Provincial Coordinators and other district health coordinators.
Work closely with MOH and facility personnel and other stakeholders e.g. laboratory services, pharmacy to develop and implement strategies to strengthen the program management
APPLICATION PROVEEDURE
DISCLAIMER
By applying for the above-mentioned position, you consent to Right to Care to conduct qualification, ID, criminal and reference checks (internal and external) which forms part of the Company's recruitment policy and procedure. Should you not receive a response to your application from Right to Care within one month of this advert being placed, kindly consider your application as being unsuccessful.
Applicants are required to complete all screening assessment questions and completion of competency assessment using the link provided above for the application of this position to be complete.
Only applicants meeting the strict criteria outlined above will be contacted as part of the shortlisting process. Right to Care reserves the right to withdraw the vacancy at any time for whatever reason.
Right to Care is an equal opportunity affirmative action employer. The Company's approved Employment Equity Plan and Targets will be considered as part of the recruitment process. As an Equal Opportunities Employer, we actively encourage and welcome people with various disabilities to apply.
Right to Care Zambia is aware of fraudulent activities by certain individuals claiming to be representatives of the organization.
Be advised that Right to Care does not charge any fee at any stage of the recruitment process, and as such Right to Care Zambia assumes no responsibility for any announcements or activities by such individuals or entities.