Contract
TBA TBA / Month
Applications have closed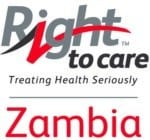 Right to Care Zambia
Treating Health Seriously
ABOUT US
Right to Care is at the vanguard in supporting and delivering prevention, care, and treatment services for HIV and associated diseases. We work with government and communities to find pioneering solutions to build and strengthening public healthcare.
We embrace a strong entrepreneurial culture and focuses on innovation and the use of technology to enhance services, address skills shortages, and deliver quality healthcare outcomes. Our areas of expertise include HIV and TB care and treatment, pharmacy automation, medical male circumcision, and cervical cancer diagnosis and treatment.
Right to Care Zambia has been awarded a five (5) year project funded by the USAID through the PEPFAR mechanism. The USAID – Action HIV project aims to reduce HIV mortality, morbidity, and transmission by achieving the UNAIDS and PEPFAR goal of 95/95/95 HIV treatment coverage by providing comprehensive HIV Prevention, Care and Treatment maintenance services in Luapula, Northern and Muchinga provinces of Zambia. The USAID Action HIV project will work closely with and in support of the Ministry of Health.
QUALIFICATIONS AND EXPERIENCE
Minimum Required Qualifications and Experience:
Diploma in Biomedical Sciences/ Medical Laboratory Sciences
Minimum 2 To 3 Years Working in Molecular testing laboratory.
At least 1 year work experience in specimen processing using Hologic Panther.
Excellent verbal, written communication, and great coordination skills
Ability to work independently with minimal supervision.
Experience in Laboratory stock Management and ELMIS systems
 Sufficient understanding of ISO 15189 requirements
Excellent attention to detail and laboratory processes
Research and data analysis skills
Ability to multitask
Ability to follow biohazard guidelines
Registration with HPCZ
Desirable Qualifications and Experience
BSc in Biomedical Sciences
Sufficient knowledge of Good Clinical Laboratory Practices (GCLP).
Experience in Quality Management implementation
Adequate knowledge of the HIV program cascade
Training in ISO 15189 version 2022 will be an added advantage
TECHNICAL AND BEHAVIOURAL COMPETENCIES
Cultural Awareness
Accountability, Adaptability and Flexibility
Planning and Organizing
Professionalism
Creative and Innovative Thinking
Results Focused, Quality of Work & Accuracy
Team player
Reliability
KEY PERFORMANCE AREAS
Ensure electronic registration of samples using eLABS/DISA systems.
Monitor utilization of eLABS by facilities referring samples to PCR Lab and provide prompt feedback.
Conduct EID, HIVVL, HPV, Covid-19 testing using Hologic Panther testing Platform.
Authorization of results and ensure results return to facilities.
Perform daily Quality Control procedures in PCR to ensure quality results.
Maintain equipment & monitor performance and conduct basic trouble shooting.
Ensure consistent availability of Reagents and consumables to avoid disruption of testing services.
Provide timely feedback to facilities on pending results, sample rejections, and backlogs.
Be able to account for all samples received at Laboratory.
Ensure availability of VL and EID stationery (Plain papers, barcodes, VL and EID Registers, Job Aides and SOPS)
Provide technical assistance/supportive supervision and mentorship on specimen collection, handling, storage, packaging, transportation, and results return to facilities.
Address the pending list in eLABS.
Monitor eLABS dashboard for specimen registrations, results read, results to action.
Ensure use of shipping logs for both specimen and results by courier staff
Ensure district courier motorbikes riders adhere to the sample tracking form and Courier schedule (Shipping List).
Act as contact between Laboratory & Clinical services to support VL/EID/HPV testing programs.
Perform testing and reporting on EQA samples as part of the national program.
Work in collaboration with MoH Lab team and support different departmental activities.
Provide detailed monthly reports on eLABS performance and availability of tracer commodities in the districts and hub.
Keep an updated equipment database/log useful for tracking functionality, downtime and repairs.
Maintain a short Turnaround time for all specimen types.
Maintain frequent communications with vendors, provincial Laboratory leads under MoH and RTCZ
Provide detailed monthly technical reports on testing performance at PCR for HPV, EID, and VL and stock status report.
Support QMS activities in the Laboratory department.
Provide a QMS Lab activities report monthly to monitor progress on implementation
Implement Continuous Quality improvement projects to improve performance and quality in PCR Laboratory.
Support hub level activities in facilities within Chinsali and Shiwang'andu.
Conduct other duties as assigned.
APPLICATION PROCEEDURE
DISCLAIMER
By applying for the above-mentioned position, you consent to Right to Care to conduct qualification, ID, criminal and reference checks (internal and external) which forms part of the Company's recruitment policy and procedure. Should you not receive a response to your application from Right to Care within one month of this advert being placed, kindly consider your application as being unsuccessful.
Applicants are required to complete all screening assessment questions and completion of competency assessment using the link provided above for the application of this position to be complete. Only applicants meeting the strict criteria outlined above will be contacted as part of the shortlisting process.  Right to Care reserves the right to withdraw the vacancy at any time for whatever reason.
Right to Care is an equal opportunity affirmative action employer. The Company's approved Employment Equity Plan and Targets will be considered as part of the recruitment process.  As an Equal Opportunities Employer, we actively encourage and welcome people with various disabilities to apply.
Right to Care Zambia is aware of fraudulent activities by certain individuals claiming to be representatives of the organization.
Be advised that Right to Care does not charge any fee at any stage of the recruitment process, and as such Right to Care Zambia assumes no responsibility for any announcements or activities by such individuals or entities.