Full Time
Applications have closed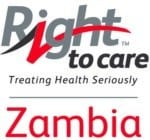 Right to Care Zambia
Treating Health Seriously
ABOUT US
Right to Care is at the vanguard in supporting and delivering prevention, care, and treatment services for HIV and associated diseases. We work with government and communities to find pioneering solutions to build and strengthening public healthcare.
We embrace a strong entrepreneurial culture and focuses on innovation and the use of technology to enhance services, address skills shortages, and deliver quality healthcare outcomes. Our areas of expertise include HIV and TB care and treatment, pharmacy automation, medical male circumcision, and cervical cancer diagnosis and treatment.
Right to Care Zambia has been awarded a five (5) year project funded by the USAID through the PEPFAR mechanism. The USAID – Action HIV project aims to reduce HIV mortality, morbidity and transmission by achieving the UNAIDS and PEPFAR goal of 95/95/95 HIV treatment coverage by providing comprehensive HIV Prevention, Care and Treatment maintenance services in Luapula, Northern and Muchinga provinces of Zambia. The USAID Action HIV project will work closely with and in support of the Ministry of Health.
Minimum Required Qualifications and Experience:
Grade 12 Certificate
Bachelor's degree in Social Sciences, Statistics or Public Health, Behavioural Sciences, or related field.
3-5 years' experience in Monitoring and Evaluation including in PEPFAR programs.
2–3-year experience in M&E of HIV/AIDS programme
2-3 years' experience in managing HIV/AIDS-related data, including data verification / quality assurance
Experience with donor programs is required.
Experience with SmartCare required
USAID experience a plus.
Experience in managing staff
Experience in training / facilitation
Background in research, monitoring, and evaluation and/or other data management field
Strong knowledge of HIV/AIDS
Desirable Qualifications and Experience:
Master's Degree or its International Equivalent in Statistics, Social Sciences, Public Health or Related Field, added advantage.
Relevant work experience implementing monitoring systems for impact analysis
Work experience with donor-funded projects on skills development
Experience with innovative analysis of monitoring data
Experience with effective use and visualization of monitoring data
Experience with independently conducting data analysis, interpretation, and presentation of findings, including identification of possible causes for findings and can propose measures to address underlying causes
Proven experience with writing baseline, annual, and final M&E reports to document project targets, actual accomplishments, and reasons for any deviations.
Ability to work effectively in a fast-paced environment
Experience in MoH and PEPFAR reporting
TECHNICAL AND BEHAVIOURAL COMPETENCIES
Confidence & Self Control
Ethics and Integrity
Initiative
Professionalism
Planning and organizing
KEY PERFORMANCE AREAS
Stay informed of best M&E practices.
Participate in, and facilitate M&E trainings/meetings.
Stay informed of HIV-related MoH and PEPFAR reporting requirements.
Develop M&E Work Plan for USAID Action HIV programme.
Update Monthly Reporting Templates for Partners/Programmes, with country/donor recommended changes.
Update database of all USAID Action HIV partners/programmes with required details, on quarterly basis or as required.
Design, improve and expand data tools for use at central M&E Unit.
Develop and implement evaluation plans for USAID Action HIV
Manage evaluation processes, including liaising with partners, external stakeholders and service providers, creating terms of reference and evaluation guidelines
Conduct M&E site visits to USAID Action HIV partners/ programmes.
Provide ongoing telephonic/e-mail support, training, and technical assistance on M&E to partners/programmes, including revision/design of Data Management tools.
Design and present M&E-related training sessions for partners/programmes.
Facilitate access to general M&E training for partners/programmes.
Design and conduct Data Quality Audit and follow up on implementation of audit recommendations by USAID Action HIV partners/programmes on regular basis.
Ensure submission of Monthly Reports to USAID Action HIV partners/ programmes, in line with PEPFAR reporting deadlines for end-of-quarter months.
Conduct Internal Verification Check of Monthly Reports of partners/ programmes, in line with PEPFAR reporting deadlines for end-of-quarter months.
Obtain corrections upon identification of data quality issues.
Design and maintain aggregate stats database
Maintain repository (paper-based and electronic) of all Monthly Reports and collation tools.
Compile and review monthly Program reports.
Compile Quarterly, Semi-annual and Annual USAID Reports within deadlines (Jan, Apr, Jul, and Oct).
Verify USAID Action HIV partners' Quarterly, Semi-annual and Annual PEPFAR Reports prior to submission to USAID.
Design and maintain quarterly stats overview for USAID Action HIV partners'/programme's performance.
Respond to reasonable and relevant requests for data by country partners, USAID, peer organisations, and other stakeholders.
Disseminate all Monthly Reports and USAID Reports back to relevant partners/ programmes upon finalisation
Manage M&E unit plans and budget
Perform other job-related responsibilities as assigned by the Provincial Manager as and when required and any other tasks which may be allocated from time to time.
APPLICATION PROCEEDURE
DISCLAIMER
By applying for the above-mentioned position, you consent to Right to Care to conduct qualification, ID, criminal and reference checks (internal and external) which forms part of the Company's recruitment policy and procedure. Should you not receive a response to your application from Right to Care within one month of this advert being placed, kindly consider your application as being unsuccessful.
Applicants are required to complete all screening assessment questions and completion of competency assessment using the link provided above for the application of this position to be complete. Only applicants meeting the strict criteria outlined above will be contacted as part of the shortlisting process. Right to Care reserves the right to withdraw the vacancy at any time for whatever reason.
Right to Care is an equal opportunity affirmative action employer. The Company's approved Employment Equity Plan and Targets will be considered as part of the recruitment process. As an Equal Opportunities Employer, we actively encourage and welcome people with various disabilities to apply.
Right to Care Zambia is aware of fraudulent activities by certain individuals claiming to be representatives of the organization.
Be advised that Right to Care does not charge any fee at any stage of the recruitment process, and as such Right to Care Zambia assumes no responsibility for any announcements or activities by such individuals or entities.