Consultancy
Applications have closed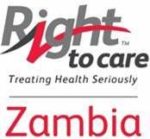 Terms of Reference for Business Process Automation Project
Company Name: Right to Care Zambia (RTCZ)
Location: Lusaka, Zambia, 10101
1. Background
Right to Care Zambia (RTCZ) is a fully registered Zambian not-for-profit organisation with strong professional leadership and a good working relationship with the Ministry of Health (MoH), medical and public health schools, and the research community. RTCZ was incorporated in 2016. Since then, RTCZ has become a local NGO, led by a predominantly Zambian team. The RTCZ research department has been successful in acquiring further projects supported by USAID – Zambia, NIH, Bill and Melinda Gates Foundation, and Grand Challenges Canada. RTCZ is headquartered in Lusaka and has supported projects in Northern, Muchinga, Luapula, Eastern, and Southern Provinces.
This project request follows a comprehensive business process automation review that was conducted by RTCZ in 2022. This exercise was aimed at identifying gaps in the existing business processes and proposed innovative improvements such as digitization and automation with new and existing tools such as office 365. RTCZ therefore, wishes to engage a digital transformation consulting firm to facilitate the business process automation project.
2. Purpose and Objective
The purpose and objective of this project is to transform RTCZ manual business processes into efficient and effective paperless processes.
2.1. Specific Objectives (Issues, Solution & Benefit)
Process Issues
Proposed Solutions
Benefits
1.      Manual forms – Paper based documentation for processes such as travel, payment requests, etc.
Digitization of all key forms
Reduced printing costs
2.      Broken Processes – Related processes isolated from each other. i.e., Onboarding that require action from HR, Finance, Operations, and IT.
Normalization and connection of all key workflows
Reduced process gaps and improved communication
3.      Manual Workflows – Workflows such as requests, approvals, and payments manually done on paper based or electronic documents.
Automation of all key processes or workflows
Improved productivity and turnaround time
4.      Manual Data collection and entry – Paper based data sources create extra data entry efforts as the same data need to be repeatedly entered into several systems.
Digitization of end-to-end data collection and entry forms/tools
Reduced data entry points and increased focus on data quality
5.      Manual Data Analysis and Reporting – Offline based data tools such as excel desktop.
Automation of data analysis and reporting (i.e., MS Power BI)
Improved data quality, learning and reporting
6.      Unintegrated Tools/Systems – Isolated systems such as ERP (i.e, SAGE, SAP) with Office 365 Tools.
Integration of key Tools/Systems
Effective and efficient process flows and reduced fraud
3.  Scope and Focus of the Assignment
This project will cover RTCZ HR, Finance, Operations, IT and Program (Technical) business processes. The scope will focus on established inefficiencies and proposed recommendations that include, elimination of some process steps, integration of existing forms, tools, and systems, as well as digitization and automation of manual workflows as proposed in this project implementation plan.
The firm will be required to fulfil the following tasks:
Provide technical assistance to RTCZ from planning, implementation, supervision, and monitoring of the Business Process Automation.
Advise on the national legal requirements and procedures, international standards applicable for Security, Audit and Compliance on Data Localization.
Ensure that there is effective supervision, monitoring and implementation of the project to be completed in a timely manner and within the budget and quality standards.
Ensure that there are effective quality control measures in place for the implementation and monitoring of the project and that the contractor complies with all the technical specifications.
Identify and manage risks and ensure that timely corrective actions are undertaken for benefit maximization to the client and other stakeholders.
To ensure that all project's objectives are timely and correctly, completed and according to Quality, Health, Safety and Environment standards.
Take technical responsibility for the overall progress of the project and prudent management of resources.
3.1 Scope of work:
Under the guidance of Senior IT Manager, the following are the specific roles and responsibilities expected
 undertake an independent business process review of the RTCZ business processes and identify and report findings to the RTCZ management,
To observe all the exiting forms/documentation and advise on possible integration and normalization of such forms.
Prepare a technical report for kick starting the procurement process for any resources that will require procurement.
Prepare a proposed scope, budget, and schedule for the implementation of the Project.
Provide support in the procurement of any resources or third-party service during the project stages.
Monitor and report progress on agreed intervals.
Verify that works are consistent with the project technical specifications and inform management promptly of eventual deviations (Quality control).
Provide on-demand support on any relevant issues related to the business process automation works raised by the stakeholders.
Prepare and update a high-level timeline showing when each phase of the project must be completed to meet the final deadline, showing a critical path bringing to the delivery of the project and ensure close monitoring of the progress of the project.
Facilitate user acceptance training (UAT) to RTCZ users until stakeholder expectations are met.
To facilitate handover of the project to RTCZ, ensuring that all contractual obligations of the Contractor are fully met, and the business process automation has been successfully completed.
Provide training to RTCZ users on the use of digital processes such as SharePoint Apps.
Provide Risk and Compliance training to the Risk and Compliance team on the new business process controls.
Provide Security and Compliance training to the IT Security team.
Provide post-project support for an agreed period.
3.2 Key Deliverables: O365 Business Process Automation:
Full Project Plan
RTCZ SharePoint Site
RTCZ Digitized Forms
SharePoint Apps
Automated Workflows
Email Integration
Audit and Security
Cloud and Mobility
Localized Data
Project Completion Report
4. Methodology and process
The main environment of automation will be the existing Microsoft Office 365 environment. The tools to be used will include Microsoft SharePoint, Power Apps, Power Automate, and Power BI. This project will follow the tentative proposed approach below and expected to be completed within three (3) months.
Solution
Activity
Operations, HR, and Finance forms digitization
1.      Requirements
Gathering/Identification of related processes forms
2.      Integration of related process forms
3.      Development of digital forms
Operations, HR, and Finance Workflow Automation
1.      Creation of Business Process SharePoint Sites
2.      Identification/Development of Process Apps (SharePoint)
3.      Design and Configuration of SharePoint Automated Workflow Apps
4.      Implementation and Testing of SharePoint Workflow Apps.
5.      Training on SharePoint Workflows
Integration of ERPs with Office 365 Workflows
1.      Upgrade of existing ERPs
2.      API identification and design
3.      API Implementation and Testing
4.      Process user Testing
5.     Qualifications for the successful Consultancy Firm
 A minimum of a post-graduate University degree in Computer Science, Engineering, Business, Project Management for the lead consultant.
Training in a field related to digital transformation, business process engineering, low-code programing, process improvement, quality control management, with a preference for a graduate degree and relevant professional certifications in Microsoft (i.e., O365, Azure) for the lead developer/consultant.
At least three (3) prior consultative engagements of a similar nature and experience in project.
Familiarity with other international private or public sector modernization initiatives (3 years).
Duly registered company with relevant local or international association.
6.     Quote Submission Deadline:
Date:   19 May 2023
Time:  17:00hrs
All questions should be addressed to the below email no later than 12th May 2023
Email: [email protected]
7.     Mode of Submission of Quote:
Quote(s) shall be submitted in writing to:
Name: Right to care Zambia procurement
Email: [email protected]
Phone: +260 966 131 615