Internship
Applications have closed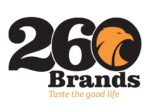 Seba Foods (Zambia) Limited.
We are a proudly Zambian owned company and a renowned manufacturer of maize and soya-based consumer foods product, popularly known as Golden Goodness Tasty Soya Pieces, Seba's Instant Thobwa, Nutrameal, Seba's HEPS, Emilios Snacks and Nutramilk.
260 Brands seeks to recruit suitably qualified individuals for the position of:
Position: Sales Executive – Intern (SMSE001)
Business: Seba Foods Zambia Limited
Work-level: Junior Management (J4)
Locations: Lusaka, Copperbelt, Kabwe, Kapiri,
Reports to: Sales Manager
Job purpose
The Sales Executive Intern will report directly to the Sales Manager and will be trained on how to be responsible for strengthening current client relationships, building new relations and closing sales deals for all 260 Brands' products (particular emphasis on HEPS porridge and bulk orders of all 260 Brands products) with clients originating from Alternative Channels countrywide, including but not limited to: hospitals/clinics, NGOs, schools/institutions, corporates, commercial farms and HoReCa (hotels, restaurants, cafes).
Key responsibilities
Developing a client database of current and potential clients, including but not limited to: hospitals/clinics, NGOs, schools/institutions, corporate, commercial farms and HoReCa (hotels, restaurants, cafes).
Conduct lead generation activities to create numerous leads for clients from alternative channels, including but not limited to emails, cold calling, attending events, setting up client meetings, following up with clients, etc.
Travel country wide to identify new client opportunities and understand the market in that province.
Generate quotations for potential client opportunities and supporting with writing tender, where necessary.
Ensure all orders made by clients are fulfilled and received accurately and on time.
Nurture current client relationships and resolve client complaints/problems to ensure client retention.
Support with the development and implementation of a marketing plan and strategy to reach clients from alternative channels.
Participate in all sales activities as required by management, i.e. sampling activities promotions, and use of IT (information technology) to carry out sales
Prepare regular sales reports and reconciliations
Prepare market reports and other reports management may require
Ensure targets set by management are met at all times and without fail
Key Qualifications
1. Minimal experience working in the field of B2B sales, preferably in FMCG (fast moving consumer goods) industry
2. Experience in client-facing roles that interacted with senior and executive level staff in the past, is desired.
3. A relevant four year Bachelor's degree required
4. Strong existing network of business relationships with companies falling under the alternative channels category preferred.
5. Thrives working within strict timelines and in 'high pressure environments' and demonstrates excellent time management skills
6. Strong communication skills (both oral and written) required
7. Good command of English, Nyanja and Bemba
8. Demonstrates a positive and resilient attitude towards challenges
9. Enjoys engaging with a host of different people and strong potential to develop business relationships and generate new client opportunities.
10. High level of computer literacy with a strong command of Microsoft Office products (Word, Excel and PowerPoint).
All qualified individuals should send their updated Curriculum Vitae to [email protected] not later than 30th November 2022.