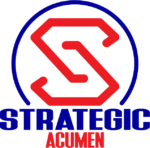 Strategic Acumen Centre Zambia Limited
Growing Businesses, Enriching Lives
We are urgently looking for a 'Digital Marketer-Cum-Sales Executive" who will be responsible for the planning and managing of our marketing campaigns which aim at introducing our Botswana-based Company Strategic Acumen Centre into the Zambian market and, hence, promote its brand, products and services and contribute to its business development and market share growth in Zambia. This role focuses on the marketing of our wide range of accounting, bookkeeping, taxation, company registration services and all business consultancy and other related professional services.
The ideal candidate is someone with experience in digital marketing, graphic design and social media management and marketing. He/she needs to be an effective communicator and can demonstrate excellent interpersonal, persuasive and excellent selling skills. The selected person should be ready to start work now on a part-time basis and then on a full time basis from 03 January 2024.
Key Duties & Responsibilities
Actively identify new business opportunities and build market position by locating, networking, developing, negotiating, and closing business relationships
Prospecting and contact building including cold calling, emailing, and pitching digital marketing and services to new prospects
Contribute to the overall direction & growth of the company
Plan and manage promotional advertisements and messages delivered through social media ads, google ads and video ads
Use display advertising platforms such as Google Ads, etc to reach audiences across different mediums or display network (e.g. mobile apps, website etc)
Able to do content writing
Manage the Facebook pages/accounts of the Company and its Linkedin and other social media accounts
Company Benefits
Monthly Basic Salary
Sales Commissions Pay for meeting Sales Targets
Performance Bonus,
Yearly Increment
5 Days Work Week
Annual leave, Medical Leave, Maternity/Paternity Leave, Compassionate Leave
Annual Bonus & Annual dinner.
Requirements
Diploma/Bachelor's degree in sales and marketing, PR, graphic design/multimedia or a related field
Preferable 2 years' experience in services/solutions sales, preferably in the digital marketing space
Minimum 2 years' experience in cold calling, direct marketing & door-to-door sales
Track record of closing sales and meeting sales targets
Working knowledge of Photoshop & illustrator & other graphic software
A passion for, or an understanding of, the digital and social media marketing ecosystem
Ability to build strong relationships with customers and the Zambian industry
Fast learner, self-motivated, highly resourceful and organized
Independent & possessing good problem solving skills.
Self-driven, results-oriented with skills in prioritizing and organising.
Having a laptop or PC at home is a must for the ideal candidate
Good knowledge of website design and development will be an added advantage.
If you are interested in the above position, please send your job application letter, CV and copies of your qualifications to [email protected]. The closing date for applications is 17/11/2023. Strategic Acumen Centre (Z) Ltd will only communicate with selected candidates.