Full Time
Applications have closed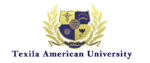 Texila American University
Texila American University is a World Class Affordable Educational Provider. We are a forward-looking, modern university with a proud tradition as a provider of high-quality education and a focus on applied research.
The University seeks to recruit suitably qualified individual/s for the position of Enrolment Advisors (8)
The tasks of the Enrollment Advisor will include but are not limited to:
Enters lead lists and individual prospects into the system, as identified or provided by self or other staff members
Communicating with prospective students Prequalifies prospective students against university criteria or forwards applications to relevant superiors for qualification advice
Documents communication with contacts by completing forms and record logs.
Maintains database by entering, verifying, and backing up data
Organizing market research
Arranging promotional events
Assessing the results of a marketing campaign
Analyzing questionnaires
Assisting in writing reports and analyzing data
Assisting with promotional activities
Organizing and hosting presentations and customer visits
Writing reports, company brochures, and similar documents Maintain operations by following policies and procedures; reporting needed changes.
Maintains quality service by following organization standards
Prepares all promotional kits to include university information, the necessary applications, brochures, and appropriate special program information upon the direction of university management.
Accomplishes marketing and organization mission by completing related results as needed.
Performs any other lawful duties assigned.
Educational
Qualifications;
Bachelor's degree in Sales & Marketing.
Professional Experience;
3 years in a sales and Marketing role or similar position
Method of Application
Candidates that meet the requirements are to send their updated CVs to [email protected] before 7th November 2022.