Full Time
September 29, 2023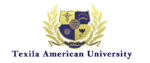 Website Texila American University
Texila American University is a world Class Affordable Education
Texila American University is a World Class Affordable Educational Provider. We are a forward-looking, modern university with a proud tradition as a provider of high-quality education and a focus on applied research. Texila Group–has 4000+ students from 70+ Countries for its varied program verticals.
The University seeks to recruit a suitably qualified individual for the position of "Head of Department – School of Business and Management".
Job Responsibilities
1. Teaching:
Writing lecture material and handouts and presenting information in lectures; seminars and tutorials, Skills in using ICT tools
Collect feedback from students to improve teaching methodologies and content within the department /faculty.
Providing guidance and advice to students to elevate their career and personal issues.
To ensure that all information is duly uploaded in LMS and ERP (as applicable) on timely basis.
Member of the Governing committees, and other committees of the university as may be required.
2. Research – publications:
Proficient in Identifying research topic Investigating new areas of research within specialist subject area.
Writing papers on a topic relevant to a specialist subject area which includes journals, books, and other material.
3. Examinations:
Responsible for preparation of assessment papers for examinations
Marking examination papers for graduate and undergraduate students.
Writing examination reports for faculty/departmental review.
Writing dissertation reports.
4. Administration:
Working hand in hand with the Dean of the SOBM in all the academic activities
Assist with the strategic planning in teaching, learning and academic administration.
Assist with addressing the challenges which affects the academics aspects to the higher authority through the Dean's Office.
Assist in the Preparation of the academic calendar, and timetable for each course.
Assist in Coordinating all the lecturers and students to accomplish the task in the stipulated time frame.
Coordinating workshops, seminars, guest lectures
Assist with Monitoring of programme delivery in an effort to ensure that the classes are scheduled properly and running smoothly.
6. External:
Attending conferences in specialist subject areas to liaise and network with national/international colleagues the role holder may, on occasion, be invited to give presentations and lectures in his/her specialism and/or organize sessions in conferences or workshops.
Participating in external working groups – on occasions the role holder may be asked to participate in collaborative projects.
7. Other:
1. Perform any other lawful duties as assigned.
Skills
Drive for results
Quality focus
Integrity
Planning, organizing and flexibility
Confidence and self-control
Problem-solving and initiative
Critical information seeking
Communicating with clarity
Embracing change
Collaborating with others
Influencing and relationship building
Innovation and creativity
Qualifications
Minimum of 5 years lecturing experience in a recognized institution of higher learning institute.
A PhD in Management /Human Resources/Finance is Mandatory
All qualifications must be in the same filed of specialisation.
At least three (5) peer-reviewed publications in recognised journals in the field of specialization
Job application procedure
Candidates that meet the requirements are to send their updated CVs to [email protected]  before Friday, 29th September, 2023.