Full Time
Applications have closed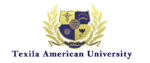 Texila American University
Texila American University is a World Class Affordable Educational Provider. We are a forward-looking, modern university with a proud tradition as a provider of high-quality education and a focus on applied research.
The University seeks to recruit suitably qualified individuals for the position of Student Mentor (4)
Job purpose;
Resolve student issues in an effective and efficient manner. Responsibilities;
To deal with the day-to-day operational issues associated with students, e.g. missing uniform, grooming, attire, etc.
To deal with students arriving late to school/monitor attendance.
To liaise with colleagues in school to organize support for students when necessary.
To liaise with student counselors to bring in necessary counseling for students where appropriate.
To provide guidance for parents in helping students.
To liaise with all staff and in particular Achievement Coordinators, Subject Leaders, and Leadership team on disciplinary issues and to take a key role in the school's disciplinary system.
To inform colleagues about social or behavioral issues or changes affecting students when appropriate.
To discuss disciplinary incidents with students and colleagues and to monitor students on the report.
To implement recommendations from the Disciplinary committee.
To patrol corridors to monitor any students out of class and ensure they return to class as soon as possible.
To work with the Housing Coordinator to ensure proper accommodation for students.
To work with the Warden/Matron to take care of issues related to student accommodation.
To maintain paperwork and records in relation to all of the above.
To set specific targets and to match curricular materials and approaches to student needs that relate to behavior or attendance.
To provide helpful and accurate responses to parent/career inquiries.
To deliver the support service in a professional and competent manner.
To maintain arms-length conduct with all students to deal with matters related to student issues, and student queries and to resolve all issues amicably.
To perform any other lawful duties assigned.
Technical Competencies;
MS WORD, MS EXCEL, ERP, BITRIX T-CONNECT, CRM, MS POWERPOINT GIS,SPSS, EPI INFO
Behavioral Competency;
Knowledge Skill set Teamwork Leadership skills Technical know-how Adaptability Decisiveness Social Skills Positive Characters Verbal strategies Intelligence Courage Conscience Autonomy Respect Responsibility Naturalness Loyalty Humility Assertiveness.
Requirement
A bachelor's degree in any field
Experience; 
2 – 3 years in a similar role. All candidates that meet the requirements can send their updated Curriculum Vitae to [email protected] on or before 15  November 2022.