Full Time
Applications have closed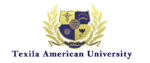 Website Texila American University
Texila American University is a world Class Affordable Education
Texila American University is a World Class Affordable Educational Provider. We are a forward-looking, modern university with a proud tradition as a provider of high-quality education and a focus on applied research. Texila Group–has 4000+ students from 70+ Countries for its varied program verticals.
Recruitment is currently Open for suitable qualified individuals for the position of "REGISTRAR"
Job purpose, roles and responsibilities.
Serves as the University's principal Administrator oversees organizing, planning, and directing the University's overall administration in accordance with the standards set by accreditation bodies and the policies and guidelines approved by the University Council.
To manage information on student registration, admissions and academic.
Shall be the responsible for legal services, public relations, and corporate secretarial services relating to council and its committees.
To develop, plan, and implement short- and long-range goals to meet universities vision & mission.
Responsible to supervise and train employees, to include organizing, prioritizing, and scheduling work assignments.
Be responsible for monitoring the implementation of the University's academic and          administrative policy of the various colleges.
Carry out the instructions of the University Board and/or the Academic Council, in such manner as the University Board and Academic Council shall respectively prescribe.
Participate in professional development activities and serve on college committees that support the goals and objectives of TAU.
Enable partnership venturing into new markets, new courses, curriculum sharing among others.
Knowledge and Skills
Strong interpersonal and communication abilities as well as the capacity to collaborate  successfully with a variety of stakeholders in a diverse community.
Understanding of scheduling and planning methods
Understanding of the laws, rules, and regulations governing student records
Ability to maintain confidentiality of records and information.
Knowledge on records archiving and/or retrieval
Educational Qualifications;
Master's degree / Ph.D. in any field but preferably Educational Administration or Social Sciences
Professional Experience;
Minimum of ten (10) years relevant work experience in university administration or in corporate management.
Membership with a professional organization or association
Job application procedure
Candidates that meet the requirements are to send their updated CVs (ONLY) to [email protected]  before  Wednesday, 15th March, 2023.