Full Time
000000 / Month
Applications have closed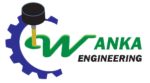 WANKA ENGINEERING
Specialized in Manufacturing of Mining Equipments, Spare parts.
create operating programs
carrying out maintenance of CNC machines
quality control of finshed jobs
Prepare and operate CNC machines to perform tasks such as drilling, grinding, milling etc.
Understand specifications of the task at hand and the desired result by reading blueprints, mechanical drawings etc.
Translate instructions into computer commands so the machines can perform the correct function.
Prepare and load raw materials and parts onto the machines
Prepare a test run to check if the machines produce outputs according to specifications
Set machines to complete full cycles to fabricate large number of parts
Supervise the machines while they execute the tasks and make any necessary adjustments to produce a better result
Inspect and measure finished products and compare them with requirements to determine if the process has been completed properly
Check and maintain machinery daily to ensure functionality
QUALIFICATIONS AND EXPERIENCE
Grade 12 Certificate
Certificate or diploma in any Mechanical progam.
Valid Occupational Health and Safety Certificate (Sili Cosis)
Minimum of 1 Years Experience
Candidate who meet the above requirements should send the cover letter and other supporting documents to [email protected] before 18th November 2023.
Wanka Engineering provides equal employment opportunities to all Zambians regardles of Religion, ethinicity, colour, Gender etc. Be reminded that Wanka Engineering does not ask for anything ( monetory or Material staff) during and after the recruitment process.