Contract
1 1 / Month
Applications have closed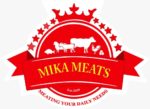 MIKA MEATS LIMITED MIKA MEATS LIMITED
MIKA MEATS IS A SUBSIDIARY OF THE MIKA GROUP OF COMPANIES
COMPANY: MIKA MEATS LIMITED
JOB TITLE: HUMAN RESOURCES OFFICERS X 2
REPORTS TO: HUMAN RESOURCES MANAGER
JOB PURPOSE
Human Resources Officers are to oversee all aspects of human resources functions including but not limited to recruitment, trainings, inductions, performance management, industrial relations management, employee welfare, payroll / salary administration and disciplinary management.
RESPONSIBILITIES
Develop and implement HR strategies and initiatives aligned with the overall business strategy
Bridge management and employee relations by addressing demands, grievances or other issues
Manage the recruitment and selection process in accordance with Company policy
Support current and future business needs through the development, engagement, motivation and preservation of human capital
Develop and monitor overall HR strategies, systems, tactics and procedures across the organization
Skillfully nurture a positive working environment at individual, team and organizational levels
Oversee and manage a performance appraisal system that drives high performanc
Maintain pay plan and benefits program
Assess training needs to apply and monitor training programs
Report to management periodically and provide decision support through HR metrics
Ensure legal compliance throughout human resource management (Napsa, Nhima, Workers Compensation, ZRA etc.)
May undertake any other administrative roles as prescribed by Management
Requirements and skills
Fully paid up member of the Zambia Institute of Human Resources Management (ZHRM)
Proven working experience as HR Officer or other HR Executive
People oriented and results driven
Demonstrable experience with Human Resources metrics
Knowledge of HR systems and database
Ability to architect strategy along with leadership skills
Excellent active listening, negotiation and presentation skills
Competence to build and effectively manage interpersonal relationships at all levels of the company
In-depth knowledge of Zambian labor laws
Minimum of a Degree in Human Resources Management, or related field
Interested candidates should send soft copy application letters and updated curriculum vitae to [email protected] or hard copy applications to Mika Hotel Limited in Kabulonga – Lusaka. The closing date for receiving applications is Sunday 26th February 2023. Only shortlisted candidates will be contacted for further processes.