Contract
1 1 / Month
Applications have closed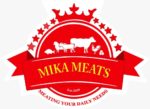 MIKA MEATS LIMITED MIKA MEATS LIMITED
MIKA MEATS IS A SUBSIDIARY OF THE MIKA GROUP OF COMPANIES
Job Title:  Poultry Manager
Reporting To:  Head-Human Resource and Administrations Servicers
Purpose:  Overseeing poultry planning, budgeting, Co-coordinating, purchasing of equipment and supplies used for brooding, feeding and medication, assign and supervise the worker and oversee and enforce procedures to maintain poultry's health and welfare.
Key Responsibility Areas.
1. Over seeing poultry planning, budgeting, purchasing of equipment and supplies used for brooding, feeding and medication.
2. Ensure proper care, accountability and protection of the wellbeing of poultry sits and maintenance of all nutrient requirements of each age groups.
3. Ensure regular checkups and maintenance of poultry equipment, hygiene and production records.
4. Ensure timely reporting of environmental extremes and poultry activities in an efficient and effective manner
5. Making sure that work is done safely and in health and safety environment
6. Ensuring that poultry is profitable and meeting the projected financial targets.
Knowledge and Skills Requirements
a) Minimum Secondary Education: Full Form V/Grade 12 School Certificate
b) Minimum Qualifications: Degree in Agriculture/Veterinary or its equivalent.
c) Minimum Relevant Pre-Job Experience: 5years
d) Computer literacy in levels of Microsoft functions covering excel and word
e) Communication Skills (Written and Oral)
(i) Written Skills Ability to write analytical and technical reports.
(ii) Oral Skills Ability to communicate effectively in English.
(e) Other Skills or Attributes
Integrity, Interpersonal and Analytical
Strong understanding and working knowledge of poultry and its requirements
Hands-on poultry farming.
Ability to respond to emergencies and solving problems effectively
Ability to do recruit, train and supervise farm workers.
Interested candidates should send their applications with cover letter stating the job title and attached detailed curriculum vitae on [email protected] or drop hard copy applications at Mika Hotel Limited in Kabulonga. The last day for receiving applications will be on 6th May 2023.