Consultancy
Full Time
Applications have closed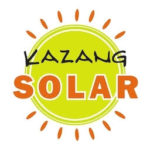 Kazang Solar
Kazang Solar provide quality and affordable solar solutions.
Kazang Solar is seeking Area Sales Supervisors to operate in rural areas in Shibuyunji, Katuba, Chingola, Solwezi, Kalomo and Chikankata on a revolving basis. The Area Sales supervisors will be responsible for Kazang Solar sales, the day-to-day after-sales support and customer management in the district. Sales and Customer Management are achieved through the training and supporting of Agents who are marketing the Azuri solar home systems to their communities.
Sales and Agent Support:
Ensure agents are "active" in managing their customers and rate of installations.
Identify and train new agents.
Work with management team to monitor agents progress.
Support newly trained agents by joining them in the field to, supervise initial sales and installations.
Conduct monthly review meetings with agents to identify and resolve challenges.
Credit Management:
Field and home visits to complement agents'.
Organize shared responsibilities with management team
Management team and Administrative/Logistics Support:
Manage professional stock control, ordering deliveries from Lusaka in advance of depletion, acknowledging serial numbers received, and assigning units to agents properly.
Assist management team with logistics, including placing orders for units, ensuring constant supply of relevant customer and agent-facing material, contract books, etc.
Store and organize signed contract copies or faulty units to return to Kazang Solar.
Minimum Requirements:
Extensive prior field work experience
At least 4 years' sales experience
Willingness to work in rural areas for the duration of the contract. (essential)
Own motorbike or motor vehicle (essential)
Valid motor bike and/or driving licence (essential)
Diploma in any subject
Excellent interpersonal skills
Ability to build and maintain relationships with others
To apply: Please email a cover letter, CV, and a copy of valid motorbike and or driving licence to [email protected]