Full Time
Applications have closed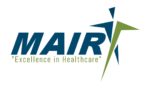 Mair Pharmacy Ltd
"Excellence in Health Care"
Job Summary
We are looking for a friendly and detail-oriented Pharmacy Cashier to join our retail store operations. You will be responsible for greeting customers when they arrive, answering questions they may have, and completing their transactions efficiently. You will also be responsible for managing the company phone and responding to any customer queries on call or WhatsApp with the help of the Pharmacist or Pharmacy Technologist.
When the pharmacy is not busy, you will be responsible for restocking of shelves with the supervision of the Pharmacist or Pharmacy Technologist, creating merchandise displays, and taking inventory. Your primary goal is to provide excellent customer service to all of our customers.
Pharmacy Cashier Duties and Responsibilities
Responsible to open and Close Pharmacy on time.
Ensure the Pharmacy is clean.
Greet customers when they arrive
Complete their purchase transactions quickly and efficiently
Restock and Price items on the shelves
Take inventory of store merchandise
Take part in monthly stock take
Build merchandise displays
Hang sale signs and decorations when necessary
Weekly Banking of Sales and maintaining adequate change denominations in the cash drawer and get additional change.
Answer customer questions about products or services
Management and reconciliation of Petty Cash
Reconcile cash drawers and sales receipts
Report issues with equipment
Work as a team to meet store sales goals
Assist Pharmacist or Pharmacy Technologist with any other duties pertaining to the Pharmacy.
Submit weekly management reports
Pharmacy Cashier Requirements and Qualifications
Full Grade 12 Certificate with a pass in mathematics
Minimum of Certificate a sales related field
At least two years work experience as a Retail Cashier or similar role in sales (Pharmacy Cashier is an added advantage)
Friendly demeanour
Basic PC Knowledge (Computer skills)
Good at Math skills
Familiarity with electronic equipment such and POS system
Customer Satisfaction oriented
Excellent communication and time management skills
Flexible schedule
Must live near Ibex Hill Twin palm Road Area
TO APPLY
Send your Cover Letter, CV, NRC and Certificates to [email protected]