Full Time
TBA ZMW / Month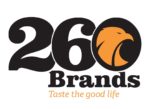 Sebafoods (Z) Limited
Taste the good Life
260 BRANDS IS HIRING
We are a proudly Zambian owned company and a renowned manufacturer of maize and soya-based consumer foods product, popularly known as Golden Goodness Tasty Soya Pieces, Seba's Instant Thobwa, Nutrameal, Seba's HEPS, Emilios Snacks and Nutri milk.                  
260 brands seeks to recruit suitably qualified individuals for the positions of;
1.  Position: Logistics Officer – SCLO004
Business: Seba Foods Zambia Limited
Location:  Lusaka, Zambia 
Reports to: Logistics Manager
Job purpose
Reporting to the Logistics Manager, the Logistics Officer will support the Logistics Manager through coordination of drivers/tricycle riders, record keeping and data entry on key functions of drivers & tricycle riders, to contribute to efficiency, timeliness and cost optimization within the Logistics department.
Key responsibilities
Providing reports and updates to branches daily of vehicles due for services, license renewals and drivers PDP's
Expediting of vehicle maintenance and services
Provide weekly reports to finance and management
Analyzing and providing feedback on data reports
Developing efficient driver schedules to maximize daily operations.
Managing drivers so they adhere to strict schedules.
Registering and licensing all vehicles under their management.
Finding ways to cut costs and maximize profits.
Developing strategies for greater fuel efficiency.
Maintaining detailed records of vehicle servicing and inspection.
Utilizing GPS systems to monitor drivers and track vehicles in case of theft.
Assisting in the recruitment of quality drivers into the fleet.
Ensuring strict servicing and -maintenance times to minimize downtime and maintain schedules.
Key Qualifications & Requirements 
A minimum of a Diploma in Fleet Management, Transport and Logistics or related field
At least 3 years' experience in FMCG.
Good communication skills and command of the English language
Experience in fleet management
---
2. Position:    Supply Chain Officer – SCSO001
Business:   Two Six Zero Brands Africa
Location:    Lusaka, Zambia
Reports to: Supply Chain Manager
Job purpose
The Supply Chain Officer is to assist the Supply Chain Manager in overseeing purchasing & supply activities and ensure that purchased items are both cost-efficient and of high quality. The Supply Chain Officer's responsibilities include maintaining positive supplier relations, evaluating supply options, vetting purchases, and maintaining accurate records
Key responsibilities
Leverage 260 Brands' inventory management system to identify trends and purchase requirements for depleting stock
Preparing plans for the purchase of equipment, services, and supplies.
Following and enforcing the company's procurement policies and procedures.
Reviewing, comparing, analyzing, and approving products and services to be purchased.
Managing inventories and maintaining accurate purchase and pricing records.
Maintaining and updating supplier information such as qualifications, delivery times, product ranges, etc.
Maintaining good supplier relations and negotiating contracts.
Researching and evaluating prospective suppliers.
Consolidate all user department requirements for goods and services, and prepare an annual procurement plan for goods and services, which will also be updated on a quarterly basis;
Ensure compliance with procurement procedures as per company policy
Evaluate quotation/bids received and prepare evaluation documentation for procurement files, including recommendation of vendors.
Prepare all vendors contract documents such as Local Purchase Orders (LPO);
Follow up on orders with contracted vendors to ensure timely delivery of goods and services, cultivating vendor relationships and ensuing product availability for user departments;
Work closely with the Finance department to ensure timely payments to vendors for all contracts; as necessary escalate any issues that arise.
Monitor supplier performance and follow up with vendors on performance issues as needed;
Maintain a comprehensive filing system for auditable records for all procurement documentations;
Assist the Supply Chain Manager to maintain the LPO tracking sheet and make sure it is updated on weekly basis;
In collaboration with Finance and Operations units, assist in managing office inventory and ensure the inventory list is up to date.
Maintain Procurement tracking tool
Prepare Procurement status report for management reporting on weekly basis
Maintain Vendor database
Monitoring pending deliveries & advise the users
Advise users on the status of their PRFs
Coordination with custom clearance for imports and exports
Co-ordinate the Van and Tricycle Riders assigned to each Area Sales Rep
Key Qualifications & Requirements
Degree/Diploma in Purchasing & Supply, Business Management or a similar field preferred.
5 years of experience as a Supply Chain/Procurement Officer or in a similar position (FMCGs is an advantage).
Proficiency in Microsoft Office and purchasing software.
Strong communication and negotiation skills.
Good analytical and strategic thinking skills.
Supervisory and management experience.
Attention to detail.
For all interested candidates, please email a cover letter and updated resume as well as any other relevant supporting documents to [email protected] on or before  26th January 2023.